Jason Bay injured his left ribs when he went full out on an attempted catch of Gregor Blanco's shot to deep left field in the fourth inning.
X-rays were negative, but Bay was not fully comfortable after the game, describing the area as "sore." He said he was not breathing fully normally. He added that chest X-rays can be inconclusive, so he may undergo an MRI on Tuesday morning.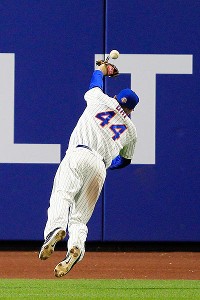 Chris Trotman/Getty Images
Jason Bay bruised ribs diving for this fourth-inning shot off the bat of Gregor Blanco.
"We're kind of hoping it's just a bruise," Bay said. "I'd probably know a little more tomorrow, I'd imagine. I can't tell you how I'm going to feel tomorrow."
As for Monday night's X-rays at the stadium, Bay said: "They said nothing jumped out. That being said, they also said chest X-rays are very tough."
Bay eventually departed and was replaced by Mike Baxter in the eighth. He said he felt discomfort while walking during a sixth-inning plate appearance -- although "not like big-time ow."
Said Bay: "Originally it felt like I jarred my shoulder a little bit. A few innings went on, I started having a little discomfort where I landed on my ribs there. I don't know much more about it."
As for the attempted catch, which ended up being a two-run double, Bay added: "I haven't seen a replay. I fully feel like I absolutely laid out for that ball. Maybe the replay shows differently, but I felt that was a full, extended backward dive for me."
Bay did a full face plant, although he was not aware. He added that this is nothing like the concussion he suffered hitting a wall at Dodger Stadium two years ago, which ultimately ended his season. "Not at all," he said. He also indicated this was dissimilar from last year's muscle issue on his side.