WHAT IT MEANS: Jose Reyes returned to Citi Field before an announced crowd of 20,192.
More importantly, on a day Mike Pelfrey and Jason Bay landed on the disabled list, Johan Santana returned to form a week after getting beat up by the Atlanta Braves in the shortest start of his major league career.
Of course, even Santana's success was excruciating, as the Mets again failed to score for their No. 1 starter and he departed trailing. Yet, the Mets ultimately prevailed 2-1 against the Miami Marlins to move back above .500 at 9-8.
Lucas Duda had the game-deciding RBI when he nailed a line drive off the middle finger on the pitching hand of Edward Mujica with two out in the eighth inning. The ball settled in the infield and Kirk Nieuwenhuis scored the go-ahead run.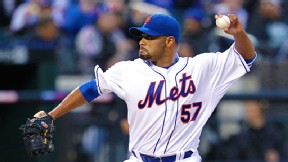 Seth Wenig/Associated Press
Johan Santana struck out 11 in a dominant performance that nearly went unrewarded.
Frank Francisco recorded his fourth save of the season -- and his first since the season-opening series against the Braves -- by tossing a scoreless ninth that included a walk.
Of course, it took plenty of help from the Marlins to finally bail Santana out of an unfair loss. Four different Miami pitchers issued consecutive walks to Mets batters, capped by Mike Dunn to Josh Thole, to force in the game-tying run in the seventh.
That inning ended when Dunn struck out pinch hitter Zach Lutz looking to strand three in the rookie's first major league at-bat.
YO! Santana limited the Marlins to one hit in six scoreless innings, then took the mound for the seventh with his pitch count at 95. Locked in a scoreless duel with Josh Johnson, Santana allowed a two-out single to Giancarlo Stanton, then a double to left field by Gaby Sanchez.
The original throw from left fielder Mike Baxter to Ruben Tejada wasn't perfect. Still, the relay throw to the plate by Tejada to Thole should have nailed Stanton and preserved the scoreless tie. Instead, the ball skipped narrowly in front of Thole and eluded him as the Marlins took a 1-0 lead.
Incredibly, the Mets have mounted zero runs in four games while Santana has been on the mound. They have been shut out twice. And in Santana's lone poor start, in his last outing when he recorded only four outs, the Mets' runs in a 9-3 loss came after the southpaw departed.
Throw out the Atlanta start and Santana has allowed two earned runs in 16 1/3 innings over three starts with nothing to show for it except an 0-2 record for the season.
Santana, who ultimately threw 105 pitches while allowing only three hits and two walks Tuesday night, struck out 11. That was his most since Aug. 2, 2010, against the Braves before the surgery to repair a torn anterior capsule.
Now Santana will pitch on standard rest for first time in the regular season Sunday in Denver.
WELCOME BACK: After being featured in a brief video tribute pregame, Reyes went 0-for-4. He was robbed of a potential extra-base hit on the second pitch of the game, when Nieuwenhuis leaped near the wall in left-center and corralled Reyes' shot.
Reyes grounded out to his successor, Tejada, to end the top of the third, then flied out to right field in the sixth and eighth innings -- the latter time against Jon Rauch, who has now tossed 9 1/3 scoreless innings this season.
Things did not go better for Reyes' successor at shortstop for the Mets. Tejada went 0-for-4 with three strikeouts, including popping out on a bunt attempt after Nieuwenhuis opened the bottom of the eighth with a single.
IN A PINCH: Ike Davis has so struggled that Terry Collins used Justin Turner to pinch hit for him with two out and a runner on first base in the seventh inning. Facing southpaw Mark Buehrle on Wednesday, the Mets will go with a more righty-oriented lineup, which very well may include Lutz at first base over Davis, Collins acknowledged pregame.
Davis was 0-for-2 before being pulled and is now 3-for-25 over his past seven games.
CLOSE CALL: In a scoreless game in the fourth, Daniel Murphy attempted to score from third on a ball that got behind catcher John Buck. However, plate umpire Dan Iassogna ruled Johnson, covering the plate, successfully applied a tag on Murphy's thigh before his foot touched the plate. Murphy, then Collins argued. The SNY freeze-frame replay appeared to validate Iassogna's call.
WHAT'S NEXT: Buehrle (1-2, 2.66 ERA) makes his first career start against the Mets, opposite R.A. Dickey.