Right-hander Elvin Ramirez had opened eyes during the 2010-11 winter-ball season in his native Dominican Republic while compiling a 1.85 ERA for Gigantes del Cibao in 20 relief appearances.
So during the Rule 5 draft at the winter meetings that December, while the Mets were selecting Pedro Beato from the Orioles and Brad Emaus from the Blue Jays, the Nationals were grabbing Ramirez from the Mets.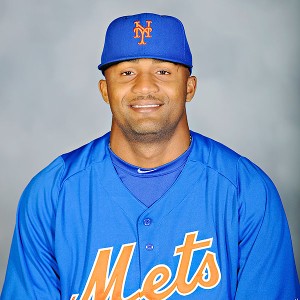 Courtesy of New York Mets
Elvin Ramirez
Ramirez, now 24, never did pitch while spending nearly a full year with the Nationals. He had developed a shoulder issue while wowing in winter ball that ultimately led to late-March 2011 shoulder surgery while temporarily Washington property.
The Nats eventually returned him to the Mets in mid-October. They could have carried him into this season with the Rule 5 provisions still in place, but chose to no longer tie up the 40-man roster spot.
So now, after a full season away from the organization, which he primarily spent rehabbing at the Nationals' spring-training complex in Viera, Fla., Ramirez is back with the Mets and again opening eyes.
"I was in-between," said Ramirez, who spent plenty of time with Washington pitcher and fellow Dominican Atahaulpa Severino during the lost season at the Nats' complex. "I was hurt, so I didn't know what was going to happen. I was waiting for whatever was going to happen."
So far this season, Ramirez has tossed 8 1/3 scoreless innings over five relief appearances for Double-A Binghamton. He has struck out a gaudy 15 Eastern League batters while surrendering three hits and five walks.
Ramirez's velocity sat at 93-94 mph in a recent outing, still shy of the 94-96 mph he tossed pre-shoulder issue. But the results speak for themselves. And the velocity has been creeping upward since Ramirez's first B-Mets outing, on April 6.
"One of the things I heard when he got Rule 5'd by the Nationals was that winter he was throwing extremely hard," B-Mets manager Pedro Lopez said. "His fastball was up to 99, 98 mph. After the injury he suffered -- he sat out last year -- the velocity is coming back slowly. I think in spring training he was throwing 90, 92. There's been a couple of times here where he's topped out at 96. Some of the pitching coaches that have seen him in the past say he looks healthy, and they think his fastball is going to come back again.
"But it's been impressive right now. He throws a fastball, slider and changeup. Right now they're pretty good. The thing I remember of Elvin from Savannah in 2008, he had the makings of a good changeup. Now he's got a really good changeup. And he throws it to right-handed hitters. I think that makes him real effective."
Organization leaders
Average: T.J. Rivera, Savannah, .406; Bobby Scales, Buffalo, .377; Josh Rodriguez, Binghamton, .365; Jefry Marte, Binghamton, .356; Zach Lutz, Buffalo, .333; Wilfredo Tovar, St. Lucie, .321; Wilmer Flores, St. Lucie, .316; Vinny Rottino, Buffalo, .315; Danny Muno, St. Lucie, .294; Cory Vaughn, St. Lucie, .291.
Homers: Valentino Pascucci, Buffalo, 6.
RBI: Wilmer Flores, St. Lucie, 15; Aderlin Rodriguez, Savannah, 15; Valentino Pascucci, Buffalo, 14; Danny Muno, St. Lucie, 12.
Steals: Danny Muno, St. Lucie, 4; Luis Nieves, Savannah, 4; Josh Rodriguez, Binghamton, 4.
ERA: Darin Gorski, Binghamton, 1.13; Chase Huchingson, St. Lucie, 1.23; Collin McHugh, Bighamton, 1.59; Tyler Pill, Savannah, 1.76; Zack Wheeler, Binghamton, 1.80; Jeremy Hefner, Buffalo, 1.96; Rafael Montero, Savannah, 1.99; Chris Schwinden, Buffalo, 2.05; Mark Cohoon, Binghamton, 2.05; Domingo Tapia, Savannah, 2.55.
Wins: Chase Huchingson, St. Lucie, 3; Collin McHugh, Binghamton, 3.
Saves: Fernando Cabrera, Buffalo, 4; Adam Kolarek, St. Lucie, 3; Josh Edgin, Buffalo, 2; Jeffrey Kaplan, St. Lucie, 2; Adrian Rosario, St. Lucie, 2.
Strikeouts: Zack Wheeler, Binghamton, 24; Jeurys Familia, Buffalo, 23; Collin McHugh, Binghamton, 22; Domingo Tapia, Savannah, 20.
Short hops
• Sean Ratliff, who was struck in the eye with a foul ball during spring training in 2011 off the bat of Zach Lutz, has retired. Ratliff, a fourth-round pick in 2008 out of Stanford, plans to head back to school to complete his education. He underwent four surgeries last year and attempted a comeback this season with Class A St. Lucie. But the outfielder was 3-for-22 with 10 strikeouts and could not overcome the vision deficiencies.
• Left-handed reliever Daniel Herrera is due to undergo season-ending Tommy John surgery. The injury helped fuel the promotion of fellow lefty Josh Edgin from Binghamton to Buffalo.
Edgin, 25, impressed in spring training and officially was added to major league camp after starting on the minor league side. He struck out three in 1 1/3 scoreless innings in his Triple-A debut Monday at Lehigh Valley. Edgin will be exposed to different types of situations with the Bisons to ready him for the majors -- from save opportunities, to entering mid-inning for lefty-on-lefty matchups, to working two-inning appearances. The Lehigh Valley in-stadium gun, which may be slightly slow, clocked Edgin's fastball at 92 mph in his Buffalo debut. He also showed a tight slider.
The Mets actually have two viable lefty relief options with the Bisons. Chuck James has tossed 6 2/3 scoreless innings, albeit with five walks.
So why was left-hander Robert Carson the one promoted to the majors Tuesday after Mike Pelfrey was placed on the DL? Well, he's the one on the 40-man roster. And the call-up is only intended for the Marlins series, after which Carson is expected to be replaced by presumed Friday starter Chris Schwinden.
• Outfielder Dustin Martin made his Triple-A Buffalo debut Tuesday night. Martin, originally a 26th-round pick by the Mets in 2006 out of Sam Houston State, was sent to the Twins with Drew Butera when the Mets originally acquired Luis Castillo. Martin was released by Minnesota at the end of spring training in March. He hit .265 with 15 homers and 69 RBIs in 490 at-bats last season with Triple-A Rochester.
• Matt Harvey possessed the best curveball of any of his Triple-A starts while limiting Syracuse to three runs on four hits and three walks in six innings Friday. Harvey, who notched his first Triple-A win, struck out Nationals phenom Bryce Harper twice and also walked him in three plate appearances.
Harper got vengeance on fellow prospect Jeurys Familia the following day, though. After Familia had retired nine straight Syracuse batters, Harper launched his first Triple-A homer. Familia nonetheless was efficient in the outing while striking out eight in a 93-pitch effort over five innings. Harper's solo homer was the lone run allowed by Familia.
• Bisons right fielder Adam Loewen has been sidelined since being pulled from Friday's game. He is wearing a boot on his right foot. The injury happened early in the season and had been nagging Loewen. The half-inning before he departed, Loewen felt discomfort tracking a ball in the right-center gap. The next half-inning, while being thrown out by Harper on a play at the plate, manager Wally Backman noticed Loewen had difficulty accelerating. Loewen, who was beaten out by Mike Baxter for the lefty-hitting backup outfield job with the Mets, was hitting .270 with three homers in 37 at-bats with the Bisons.
• Dylan Owen, during a spot start Monday while Jeremy Hefner had a major league cameo, not only tossed 4 2/3 effective innings, he became the first Buffalo pitched in 18 years to homer.
• Valentino Pascucci has a nine-game hitting streak and Vinny Rottino has a seven-game hitting streak with the Bisons.
• Mike Nickeas is 1-for-14 this season for the Mets. And if the Mets dip to the minors to make a change at some point for Josh Thole's complement, ex-Mariner/Padre Rob Johnson might be the alternative. Still, Johnson is hitting only .214 through 42 at-bats with the Bisons. And fellow Triple-A catcher Lucas May is hitting only .139. The Mets could scour the waiver wire, too. But with catching at a premium in MLB, it may be doubtful something attractive becomes available.
• Middle infielder Josh Rodriguez, a late spring-training pickup by the Mets after his release from the Pittsburgh Pirates, has been named the Double-A Eastern League Player of the Week. Rodriguez, 27, was the first overall pick in the Rule 5 draft in December 2010 that also involved Ramirez, Beato and Emaus. He appeared in seven games for the Pirates last season. Rodriguez is hitting .365 with two homers and 10 RBIs for the B-Mets. His signing was influenced by Paul DePodesta, and with a promise of a potentially quick move to Triple-A. Rodriguez's action at shortstop should increase with teammate Sean Kazmar landing on Binghamton's DL with an oblique injury.
• First baseman Allan Dykstra, who arrived at the end of spring training in 2011 from the Padres in a swap for reliever Eddie Kunz, headed home to California for five weeks after fracturing his left forearm reaching for a throw from pitcher Darin Gorski. Dykstra will be limited to riding a bicycle during that span. He suffered a similar injury earlier in his career with San Diego and suffered ligament damage. The bone damage is a less difficult road back. Eric Campbell is now manning first base for the B-Mets.
• The Mets released right-hander Eric Beaulac, a ninth-round pick in 2008 out of LeMoyne (N.Y.) College.
• Outfielder Darrell Ceciliani had a short-lived return to St. Lucie's active roster. After an 11-day absence, Ceciliani injured his hamstring retreating to catch a fly ball Sunday, in his second game back. He previously had been on the DL with a right groin injury. In his six Florida State League games this season, the former New York-Penn League batting champ is hitting .346.
• Left-hander Chase Huchingson's dominating start to the season for St. Lucie, which included a 3-0 record and 17½-inning scoreless streak, abruptly came to a halt Tuesday night when he allowed two first-inning runs against Fort Myers. Still, Huchingson's acquisition is a success story. Scout Max Semler liked Huchingson's arm and signed him as an undrafted free agent out of the University of Central Arkansas in 2010 after spotting him playing outfield and pitching in an obscure summer league. Huchingson's fastball sits between 90 and 92 mph.
• Right-handers Kyle Allen and Erik Goeddel made their season debuts for St. Lucie during the past week. Goeddel, a UCLA product, was treated slowly in readying for the season after dealing with shoulder issues last year that limited him to 15 games with Savannah. He allowed a solo homer to rehabbing Cardinal Allen Craig but no other damage in three innings, in the resumption of a suspended game. Goeddel now is expected to enter what should be a six-man St. Lucie rotation.
• Cory Vaughn had an inside-the-park homer for St. Lucie. He has a .391 on-base percentage.
• Mets officials are very pleased with 20-year-old Wilfredo Tovar's play at shortstop for St. Lucie. Compared with Ruben Tejada because both have solid instincts at the position, Tovar may have a better arm and hands.
• Right-hander Logan Verrett, the third-round pick last June out of Baylor, landed on the Savannah DL, but already was due to resume throwing.
• A pair of farmhands removed from the 40-man roster by the Mets and claimed by other organizations are off to strong starts. Fernando Martinez is hitting .294 with three homers for Triple-A Oklahoma City in the Astros organization. He primarily is playing left field. Right-hander Josh Stinson, claimed at the end of spring training by the Brewers, is 3-1 with a 3.57 ERA and one save at Double-A Huntsville and is now being groomed as a starter. He went a season-high 4 2/3 innings Tuesday night.
• Ex-Met Nelson Figueroa has latched on with the Yankees' Triple-A affiliate.
Adam Rubin's farm report appears Wednesdays during the regular season