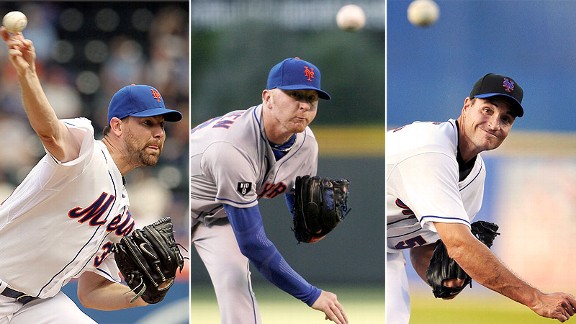 Getty Images/US Presswire
Mike Pelfrey (left) is due to have Tommy John surgery Tuesday. Chris Schwinden (center) is the initial replacement, but Chris Young (right) should be ready within a month.
Mike Pelfrey's Mets career looks like it might be over. At the very least, he appears destined to be a free agent next offseason.
Pelfrey was examined by Dr. James Andrews on Monday in Gulf Breeze, Fla. Mets assistant GM John Ricco confirmed Pelfrey will undergo season-ending Tommy John surgery on Tuesday, which will be performed by Andrews.
#34 SP
New York Mets
2012 STATS
Ricco confirmed Pelfrey has a partial tear of the ulnar collateral ligament, which ESPNNewYork.com reported a week ago.
The Tommy John procedure typically requires a 12-month recovery time, so Pelfrey likely would not be ready to compete at the major league level again until May 2013 at the earliest.
Doctors presented the option of the blood-spinning procedure that would result in platelet-rich blood being injected into Pelfrey's elbow, which might allow for a comeback attempt in a month. But given that may only have a 10 percent success rate, Pelfrey and his advisors opted to undergo the surgery now, while he is under contract to the Mets for $5.6875 million this season.
Pelfrey attempting a comeback with the injection would have benefited the team, since they are paying him for this season anyway. But Pelfrey would be risking 2013 income, which is not guaranteed.
Pelfrey is not eligible for free agency until after the '13 season. He now is expected to be nontendered at the Dec. 2 deadline and made a free agent, team sources said. Otherwise, the Mets would be obligated to pay Pelfrey at least $4.55 million next season -- 80 percent of this year's salary. And an arbitrator could award a higher sum -- not necessarily the floor -- if Pelfrey were to be tendered and then not agree to a contract with the Mets.
Chris Schwinden stepped into Pelfrey's rotation spot Friday at Colorado and was charged with six runs (five earned) in four innings. He is due to make his second start Wednesday at Houston.
Longer term, Chris Young may claim the rotation spot within a month. Young, working back from May 16, 2011 surgery to repair a torn anterior capsule in his right shoulder, threw a simulated game Monday at the team's complex in Port St. Lucie, Fla. He may begin a formal rehab assignment with Class A St. Lucie on Saturday.
Jenrry Mejia also is working back. He had Tommy John surgery the same day as Young's shoulder surgery. Mejia threw a weekend simulated game and also may be ready to advance to Florida State League action. Although Mejia is working as a starting pitcher right now, that's simply to enhance his development by forcing him into longer outings that require multiple pitches. He still could contribute as a reliever at the major league level later this season.