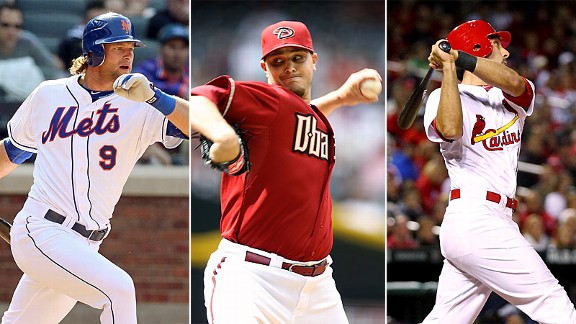 Getty Images
Kirk Nieuwenhuis has a strong case to be made for NL Rookie of the Month over Wade Miley (center) or Matt Carpenter (right).
Only one Met has won the NL's Rookie of the Month award since the award's introduction in 2001. That would be Justin Turner last May.
Could he have company when the April 2012 award is announced Wednesday? It looks very possible.
Center fielder-turned-left fielder Kirk Nieuwenhuis produced a .325 average, two homers and eight RBIs in April, and remained in the leadoff spot Monday even upon Andres Torres' return from the DL.
Despite his game-altering misjudgment against the San Francisco Giants, when the ball dropped behind him and prolonged a game the Mets eventually salvaged, Nieuwenhuis since has continued to have highlight-reel catches. That includes taking an extra-base hit away from Jose Reyes in the ex-Met's first at-bat upon returning to Citi Field as well as Sunday in the fifth inning at Denver on a shot to left-center by Jonathan Herrera that preserved a scoreless outing for Johan Santana.
Nieuwenhuis posted the third-highest April rookie average in franchise history. Rey Ordonez hit .354 in 1996 and Ron Gardenhire hit .345 in 1982.
No other NL rookie batters jump out. Shane Robinson hit .419 with a homer and five RBIs, but that was in only 31 at-bats for the St. Louis Cardinals. Nieuwenhuis had 80 at-bats, second only to Zack Cozart's 85 with the Cincinnati Reds. St. Louis' Matt Carpenter hit .267 with a homer and 14 RBIs in 60 ABs. (Check the full NL rookie batter list here.)
On the pitching side, Arizona Diamondbacks left-hander Wade Miley looks like he would have the best case. In five appearances (two starts), Miley went 3-0 with a 1.29 ERA in 21 innings. He allowed only 10 hits while striking out 15 and walking seven. Only one other NL rookie pitcher exceeded one win. That would be Atlanta's Randall Delgado, who had a 6.30 ERA along with his 2-2 record. (Check the full NL rookie pitcher list here.)
Of course, beginning next month, Bryce Harper will be on the ballot.