As a 12-year-old, T.J. Rivera pitched for his Little League team in the district-championship game in which it was eliminated by Danny Almonte's squad. A half-dozen years later, Rivera went on to play junior college baseball for ex-Met Mackey Sasser.
Now, the 23-year-old middle infielder is making a name for himself in the Mets minor league system.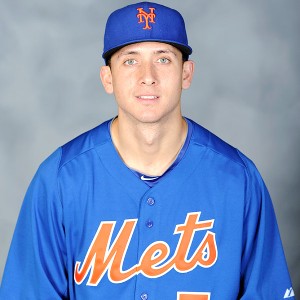 Courtesy of New York Mets
T.J. Rivera
Signed as an undrafted free agent last summer, Rivera -- a product of Lehman High School in the Bronx -- is the reigning South Atlantic League Player of the Week.
He completed April hitting .389 with four homers and 16 RBIs in 95 at-bats. He also has walked 15 times and been hit by pitches twice, giving him a .478 on-base percentage. Rivera's average ranks third in the SAL behind West Virginia's Alen Hanson (.410) and Hickory's Christopher Grayson (.400). Rivera's OBP ranks second to Grayson's .500.
Rivera was signed last July 4 after going undrafted out of Troy (Ala.) University, where his team won the Sun Belt Conference title and beat Oklahoma State in the opening game of an NCAA regional at Vanderbilt last year.
"Once the draft was over, my coaches told me that I should get an opportunity to play and sign as a free agent," Rivera said. "I was just really sitting around in Troy waiting for someone to give me a call, just give me an opportunity. My coach from Troy told me he was at a showcase or something and he saw [Mets area supervisor] Tommy Jackson, I think, and talked to him. That's when I got a call about two days later that they needed an infielder at Kingsport, so I got my opportunity."
Out of high school in the Bronx, Rivera wanted to play for a junior-college program in Florida or Alabama because of the quality of baseball and the weather. His summer-league coach sent him, as well as George Washington High School products Viosergy Rosa (now with Marlins system) and George Isabel (Yankees), who were summer-league teammates, to Sasser's JUCO program in Dothan, Ala.
"We all went down together," Rivera said. "So it was a little easier to get used to Alabama with a couple of guys out of New York."
Rivera was unfamiliar with Sasser's Mets history, including the ex-catcher's noted throwing issues, until after joining the program.
"No idea," Rivera said. "It's funny. I've heard some stories now. Especially now that I'm with the Mets, everybody knows him. But I didn't know who he was. I knew he played in the bigs for, I think, it was nine years with the Mets. But I didn't know anything about him until I got down there, actually."
Truth be told, Rivera grew up a Yankees fan. In fact, the lone Mets fan in his family is his father. Still, Rivera went to a fair amount of games at both Yankee Stadium and Shea Stadium growing up -- more Mets games, in fact. The insurance company for which his mother worked would give tickets to its employees when they were not distributed to clients.
"I grew up a Yankee fan all my life," Rivera said. "Everybody in my family is except my dad. My dad was the only Mets fan, believe it or not. I was actually pretty close. I was right in Throgs Neck, which is about 10 minutes away from Yankee Stadium. And if we took the train, it would be a little longer -- 15 minutes maybe. We'd just hop on the 4 train and be right there."
While Rivera initially played for Kingsport last year after signing, he finished the regular season with Brooklyn, where he hit .326 in 15 games. He lived in team-sponsored housing, not with his family, because the subway commute was too lengthy from the Bronx and his car was still in Alabama. Regardless, the experience playing in New York City as a professional was a particular thrill given his roots.
"That was the best part of my career so far," Rivera said. "I had a lot of family and friends that were able to come visit. Being in Alabama for four years, my parents really didn't get to see me too much, or my friends. When I got to Brooklyn, that was a great opportunity for them to come see me. It was nice, too. We had 9,000 fans a game -- crazy fans, too, I'll tell you."
Organization leaders
Average: Bobby Scales, Buffalo, .397; T.J. Rivera, Savannah, .389; Jefry Marte, Binghamton, .347; Zach Lutz, Buffalo, .333; Wilmer Flores, St. Lucie, .318; Vinny Rottino, Buffalo, .316; Wilfredo Tovar, St. Lucie, .312; Josh Rodriguez, Binghamton, .308; Danny Muno, St. Lucie, .295; Valentino Pascucci, Buffalo, .292.
Homers: Valentino Pascucci, Buffalo, 6; Travis Taijeron, Savannah, 6; Cory Vaughn, St. Lucie, 6.
RBI: Wilmer Flores, St. Lucie, 19; Valentino Pascucci, Buffalo, 18; Aderlin Rodriguez, Savannah, 18; Cory Vaughn, St. Lucie, 17.
Steals: Luis Nieves, Savannah, 7; Cesar Puello, St. Lucie, 7; Danny Muno, St. Lucie, 5.
ERA: Alex Panteliodis, Savannah, 0.89; Chase Huchingson, St. Lucie, 1.32; Zack Wheeler, Binghamton, 1.75; Chris Schwinden, Buffalo, 2.05; Jeremy Hefner, Buffalo, 2.08; Tyler Pill, Savannah, 2.11; Mark Cohoon, Binghamton, 2.25; Collin McHugh, Binghamton, 2.33; Darin Gorski, Binghamton, 2.45; Angel Cuan, St. Lucie, 2.78.
Wins: Chase Huchingson, St. Lucie, 4; Gonzalez Germen, St. Lucie, 3; Jeff Kaplan, Binghamton, 3; Cory Mazzoni, St. Lucie, 3; Collin McHugh, Binghamton, 3.
Saves: Adrian Rosario, St. Lucie, 5; Fernando Cabrera, Buffalo, 4; Adam Kolarek, St. Lucie, 4.
Strikeouts: Zack Wheeler, Binghamton, 30; Jeurys Familia, Buffalo, 26; Collin McHugh, Binghamton, 26; Matt Harvey, Buffalo, 24; Jack Leathersich, Savannah, 24.
Short hops
• The Mets system owned the top collective record in minor league baseball in April. Fueled by Class A St. Lucie's 20-4 record during the month, Mets affiliates went a combined 60-36. That .625 winning percentage was tops in baseball, exceeding runner-up Colorado's system (59-38, .608). The Mets were the only franchise to have a winning record at the major league level as well as with each of its full-season affiliates. St. Lucie's .833 winning percentage topped Fresno for the best April record in minor league baseball. The San Francisco Giants' Triple-A affiliate went 19-6 (.760). The 20 wins broke St. Lucie's record for victories in any month.
The success was fueled in large part by pitching. The Mets had the lowest collective minor league ERA in April, at 2.89, as well as the lowest opponent batting average against (.234) and on-base percentage (.307).
After another long ball Tuesday night, St. Lucie outfielder Cory Vaughn leads the Florida State League in homers with six.
Wilmer Flores, who has made the transition to third base this season, is having a bounceback year at the plate as well. The 20-year-old Venezuelan ranks second in the FSL in RBIs with 19, trailing only Daytona's Greg Rohan (28). Flores had an 11-game hitting streak snapped Friday.
As for Flores' adjustment to third base -- which he has played exclusively this season after previously playing shortstop -- that's going decently. His footwork needs work, and he has bobbled a couple of balls. But Flores largely has managed to stay with those plays and complete the out. Flores committed only two errors in April. The arm is no issue at third base.
• Matt Harvey enters Wednesday's start for Triple-A Buffalo coming off his most effective outing this season. Harvey tossed seven scoreless innings last Wednesday at Lehigh Valley, allowing four hits while striking out five and walking none. Harvey sliced his International League ERA from 6.63 to 4.85 and has now won two straight starts. He also became the second pitcher in a three-day span for Buffalo to homer, joining Dylan Owen. No Buffalo pitcher had homered for 18 years before the pair of long balls last week. Harvey's outing last week included improvement in throwing strikes (66 of 90 pitches) and more crispness with his fastball. He indicated after that start that his mechanics felt more comfortable than in any of his previous four starts.
• With Kirk Nieuwenhuis, Jordany Valdespin and temporarily Zach Lutz at the major league level, and with outfielder Adam Loewen lost to a stress fracture of the second metatarsal in his right foot, the Mets signed a trio of players for Buffalo. 2011 Opening Day second baseball Brad Emaus returns, as does outfielder Dustin Martin. The Mets also signed former San Francisco Giants outfielder Fred Lewis.
Emaus, a favorite of J.P. Ricciardi's while both were employed by the Toronto Blue Jays, was a Rule 5 pick by the Mets in December 2010, along with Pedro Beato. But after hitting .162 in 14 games with the Mets, he was returned to Toronto in mid-April, then immediately flipped in a trade to the Colorado Rockies. In January, he was acquired by the Red Sox. He went to camp with Boston, but was released. Emaus was planning to play for Laredo in independent baseball before the Mets called him while he was at home in Louisiana. Emaus so far has started one game, at third place, and may now just be a bench player with Lutz's return.
Martin, 28, originally was drafted by the Mets in the 26th round in 2006 out of Sam Houston State. A favorite of former Mets VP Tony Bernazard, Martin nonetheless was traded with catcher Drew Butera to the Minnesota Twins on July 30, 2007 for Luis Castillo. Martin hit .259 with 31 homers and 189 RBIs over the past three seasons with Triple-A Rochester, which plays in a big ballpark. He was released from Twins minor league camp because of a crowded group of outfield prospects that includes Darin Mastroianni, Joe Benson, Ben Revere and Rene Tosoni.
Martin's lone start so far came Saturday against his former club, in right field. After lightheartedly tweeting pregame to the opposing catcher Butera, "I need a bunch of fastballs today," Martin went 2-for-4 and homered for the first time with the Mets organization since playing for St. Lucie in 2007.
Lewis, 31, appeared in 81 games for the Cincinnati Reds last season. He hit .230 with three homers and 19 RBIs in 183 at-bats. Lewis had been in camp with the Cleveland Indians during spring training.
• Lutz, who was returned to Triple-A when the Mets activated Andres Torres from the disabled list, started at third base Tuesday in his first game back. That's his natural position, but Lutz now should see plenty of first-base exposure.
• Second baseman Reese Havens' ability to produce at the plate has never been questioned. And, sure enough, after opening the season on the disabled list with a left upper-back strain, Havens joined Binghamton and demonstrated that proficiency with his first official 2012 swing. After taking a first-pitch strike Sunday in his first at-bat, Havens launched the second offering over the right-field wall at Jerry Uht Park in Erie. Since being selected four slots after Ike Davis when the Mets had two first-round picks in 2008, Havens has been limited to 215 professional games because of assorted upper-body injuries. He underwent surgery two offseasons ago to remove an inch of a rib that was believed to be irritating an oblique muscle.
• The hurried trade of Francisco Rodriguez to the Milwaukee Brewers during last year's All-Star break was a clear-cut dump to avoid his vesting option kicking in for 2012 with 55 games finished. And the players returned were not the motivation for the deal. Yet maybe the Mets did get a modest return for K-Rod. Right-hander Adrian Rosario, who came with Daniel Herrera as players to be named in the trade, has limited opponents to one run and three hits while striking out 17 in 13 1/3 relief innings with St. Lucie. A converted starter, the 22-year-old Rosario throws a low-90s fastball and also features a slider, which he uses with two strikes. He has five saves this season, including one of the six-out variety.
• Top prospect Zack Wheeler continues to be unhittable, despite command issues with his fastball. Wheeler's 1.75 ERA ranks fifth in the Eastern League. His 30 strikeouts rank third, trailing Harrisburg's Robert Gilliam (35) and Reading's Trevor May (33). Wheeler also has walked 14 and hit four batters in 25 2/3 innings.
• At Buffalo, fellow highly regarded right-hander Jeurys Familia's control issues continue. Familia walked seven while requiring 90 pitches to log three innings Friday against Rochester. He did record eight strikeouts the previous outing against Syracuse, but the Chiefs are light hitting. Observers believe a better offensive club would have taken advantage of balls up in the zone.
• Former Cub Bobby Scales leads the International League with a .397 average with Buffalo.
• Binghamton infielder Eric Campbell has returned after missing a week with a right shoulder strain.
• Savannah reliever Jack Leathersich, a fifth-round pick out of UMass-Lowell last June, continues to put up gaudy strikeout totals. He has fanned 24 in 15 innings.
• Vinny Rottino might have been the call-up if the Mets needed a catcher because of Mike Nickeas' flu, but the utility player actually has not squatted behind the plate this season while hitting .316 with a homer and 13 RBIs in 95 at-bats with Buffalo. Rottino has been confined to left field because of outfield shortages. Rottino was slated to catch his first game this season on Monday, but it was rained out.
• Right-hander Jeff Kaplan, who picked up two wins and two saves in six appearances with St. Lucie, has shifted to a long-relief role with a promotion to Binghamton. Elvin Ramirez has taken over as B-Mets closer with Josh Edgin moving to Triple-A.
Adam Rubin's farm report appears Wednesdays during the regular season