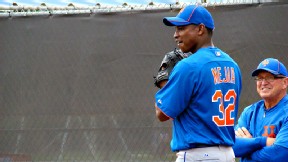 Adam Rubin
Jenrry Mejia is due to appear in a Florida State League game Wednesday.
Jenrry Mejia and Chris Young, who both underwent surgeries last May 16, are due to surface in the Florida State League on consecutive days this week.
Young's return from surgery to repair a torn anterior capsule in his right shoulder already had been confirmed for Thursday with Class A St. Lucie. He is expected to throw about 75 pitches.
Mejia is due to start Wednesday for that Florida State League team. The appearance would come one week shy of the one-year anniversary of his Tommy John surgery.