Jordany Valdespin, fresh off homering against Phillies closer Jonathan Papelbon in the ninth inning Monday night for his first major league hit, is due to start at shortstop on Tuesday. Here are five nuggets about the rookie, whose three-run shot lifted the Mets to a 5-2 win in Philly in the series opener:
1. Valdespin originally signed with the Mets out of the Dominican Republic on June 12, 2007, as a 19-year-old. Omar Minaya often touted Valdespin as a prospect to watch as he played throughout the lower levels of the minor league system.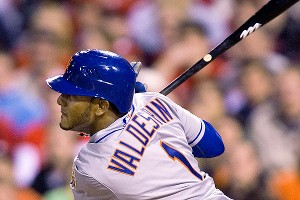 Howard Smith/US Presswire
Jordany Valdespin's first major league hit was a game-deciding homer against Phillies closer Jonathan Papelbon on Monday.
2. Until this season, Valdespin has been a middle infielder throughout his career. He has played in 210 career minor league games at second base and 146 games at shortstop. Beginning late in this year's big league camp though, when Andres Torres and Scott Hairston both were iffy for Opening Day, Valdespin began playing center field. He coincidentally had dabbled at the position working out in winter ball last offseason with Licey, but had not appeared in a game there.
With Triple-A Buffalo this season, Valdespin had appeared in only three games at second base and one game at shortstop. He logged 14 games in center field.
As a minor leaguer, Valdespin has 75 errors in his 146 games at shortstop. That's a .922 fielding percentage. The Cubs' Starlin Castro had the worst fielding percentage among regular major league shortstops last season. And Castro still had a .961 fielding percentage. Jose Reyes' was .968.
3. Scouts still have serious reservations about Valdespin being more than a utility player. Even Terry Collins noted Valdespin had discipline problems in the minors. While he has stolen 86 bases in six seasons in the minors, he also has been caught 44 times, for a success rate of 66 percent. His career high for walks in a season was a modest 25 last year, between Double-A Binghamton and Triple-A Buffalo, in a combined 554 plate appearances.
"Still too much head movement," said a scout who has tracked Valdespin after observing the rookie in person during his first cameo with the Mets this season. "Will be a problem for him with hard stuff in and recognition of off-speed stuff, especially straight changeups."
4. With Monday's homer, Valdespin became the first Met to homer as a pinch hitter for his first major league hit since Mike Jacobs in 2005. According to the Elias Sports Bureau, Valdespin became the first major league player whose first career hit came against a pitcher who had 200-plus saves on his resume. Also: The last major leaguer whose first major league hit was a go-ahead homer in the ninth inning or later was Miguel Cabrera in 2003.
5. Collins said pregame Monday that Ronny Cedeno should be the regular shortstop by the weekend, once he returns from the DL, until Ruben Tejada recovers from a right quadriceps strain. After Valdespin's heroics, the manager said late Monday regarding the rookie: "He is an extremely talented young player. ... If he plays the way he's been playing since he's been here, the way he's handled himself, he has a chance to be here a while."