Frank Francisco stood in front of his locker answering questions for the third time Monday. Earlier in the day, the media peppered him about remaining the New York Mets' closer and his meeting with manager Terry Collins about his recent tough outings.
During this session, the final one of the night, he smiled, joked and enjoyed himself after recording a needed save that certainly didn't come easy against the Milwukee Brewers. Francisco wasn't going to let his recent struggles get him down.
"I love challenges. And when we go through tough times, if you're a true player, you have to fight," he said. "You get in the hole and you have to fight to get out. If you don't fight, you're going to live in the hole forever, so that's what I do. If I fail I'm going to get up and I'm not going to stay down."
While he made things interesting, Francisco recorded his ninth save of the year in the Mets' 3-1 win over the Brewers. He gave up one run and put three men on, but didn't fall to the same fate as he did last weekend against the Miami Marlins when he was tagged with two losses and a blown save.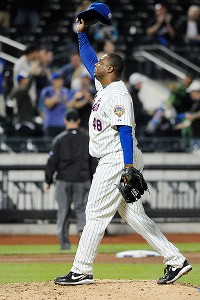 AP Photo/Kathy Kmonicek
Frank Francisco made it interesting, but he picked up his ninth save on Monday night."I know right now I'm going through a tough time," Francisco said. "If you're a fighter, you have to fight. That's what you got to do, fight through these moments. I expect some good times. I know sooner or later that will come."
Before the game, Collins said he was sticking with Francisco in the ninth inning, despite his troubles and his 8.56 ERA. The manager said he believes the closer might be tipping his pitches, and there were some other adjustments that needed to be made.
He entered the game to a chorus of boos Monday and heard them all throughout his outing, especially after yielding an RBI single to Cory Hart that sliced it to 3-1. The fans continued to serenade him with boos after he walked Taylor Green to bring the go-ahead run to the plate. Collins said he would have probably pulled Francisco if one more batter reached.
With another blown save staring him in the face, Francisco struck out Brooks Conrad and retired George Kottaras on a fly ball to right-center to notch the save. Francisco said he was not nervous after walking Green and he just trusted his stuff. His manager also showed that trust by letting Francisco fight his way out.
"He wanted to be in there bad tonight," Collins said. "I thought I should give him the opportunity."
Francisco believes he threw the ball better Monday, making good pitches and being able to miss when he wanted to. He wanted to be back out there, as he said it's the best feeling in the world when he goes out and does his job and the team wins the game.
Even the boos didn't affect him.
"I love it," Francisco said about being serenaded with boos. "You know why? Because later on, they're going to clap for me. I promise you that."
Never once during his three interviews did Francisco show signs of frustration, calmly answering questions that were all related to him failing in his role as a closer recently.
He expects to get going in the right direction soon, and hopes the media is still going to want to talk to him when he puts it all together.
Said Francisco: "I expect to see you guys when I get on the roll."