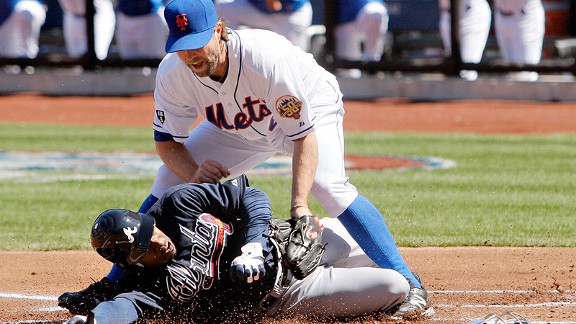 Plays like this tag out by R.A. Dickey earlier this season are why he's among the best Mets defenders.
We're 35 games into the season and there are all sorts of ways by which we could evaluate how the Mets offense and pitching are faring.
But what about their defense?
Methods of Evaluating Defense
Let's take a closer look at the Mets from that perspective, using both some basic statistics, and some advanced work from Baseball Info Solutions (BIS), a company that charts games for major league teams and media.
BIS, a company based just outside Allentown, Pa., tracks every play of every game in multiple ways.
It compiles data for a stat known as Defensive Runs Saved, which measures a fielder's ability to turn batted balls into outs and succeed at other skills pertinent to his position (such as having a deterrent throwing arm, turning double plays, or successfully defending bunts).
It also has a group of video scouts who tag plays into categories – about 30 categories of Good Fielding Plays (which they call GFPs) and 50 categories of Defensive Misplays & Errors (DM & E).
Thirty five games is not meant to be a predictive sample, but it does allow us enough to make a basic assessment of what has happened.
The Mets Have Some Imperfections
The Mets may have overachieved on the mound and at the plate to get to 20-15, but they've underachieved in the field.
The Mets rank second-worst in the majors in Defensive Runs Saved this season with their defense viewed as having cost the team 23 runs.
The primary reason for that is that they rank third-worst in Defensive Efficency, a stat tracked by Baseball Prospectus, that shows how often the defense turns batted balls into outs. The Mets have done so on 69 percent of batted balls against them.
An average team will have a defensive efficiency of 71 to 72 percent. The difference comes out to about one play per game. Over a full season, that adds up.
In 2010 and 2011, 20 of the 27 teams to finish with winning records finished in the Top 15 in defensive efficiency. The teams that finished in the bottom five averaged 70 wins.
Mets Defense in 2012
Notable Players
The Mets have two issues that are likely going to force their pitchers to get extra outs this season, both on the right side of the diamond.
Lucas Duda is having a very difficult time in right field and the BIS video trackers have not been kind.
Duda has been credited with just one GFP and, after his miscue Monday led to two extra bases on a single that rolled by him, he now has eight DM&E.
A good rightfielder will have about a 1:1 ratio. Duda isn't close. Duda also rates below average when it comes to deterring runners from taking an extra base on base hits and fly balls.
Those misplays play a part in his ranking fifth-worst in the majors and worst among right fielders with –8 Defensive Runs Saved.
The other problem the Mets have is in converting double plays, though this is something that has looked better to the eye recently.
Second baseman Daniel Murphy has made significant improvements to his pivots and flips in the last week, but still lags behind the best in double play conversions (situations in which he was either a pivot or relay man with a man on first base and less than two outs).
He has converted 13 out of 30. The average second baseman turns them at a rate such that he'd have converted 19. Murphy still has a ways to go.
But there has been improvement and sometimes it takes awhile for the numbers to catch up and recognize that.
Murphy had three misplays related to attempting to convert a double play in his first four games of the season. He hasn't had any since then.
But They Have Two Gold Glove Candidates…
Two Mets have played very good defense this season. One has been heralded for this quite a bit, David Wright. The other is pitcher R.A. Dickey,
A revision of BIS's scoring system gave Dickey the lead among pitchers in Defensive Runs Saved last season with 10. He has two already this season, putting him on pace for similar numbers.
Dickey put on as solid a defensive display as a pitcher can in Saturday's win, with three assists and a putout, including perfect execution of a tag play at third base and the trapping of another runner off second after fielding a comebacker.
That earned him a video montage on that night's Baseball Tonight and praise from analyst Rick Sutcliffe.
"When you don't throw 90 miles-per-hour, you have to do the little things," Sutcliffe said that night. "R.A. does just that."
Dickey nearly broke the Mets 49-year-old record for assists by a pitcher last season with his MLB-leading 58. He's already totaled 14 in his seven starts in 2011, tied with Mark Buehrle and Justin Masterson for most in the majors.
Sarah Glenn/Getty Images
David Wright has been prepared behind his pitchers this season
Wright has been far better through the first 35 games of 2012 than he has been in recent seasons.
Wright has made six GFPs in the last four games, giving him 16 for the season. Saturday, he earned a Web Gem (and a GFP) on Saturday for his perfect throw from foul territory that retired Marlins leftfielder Austin Kearns.
His latest GFP was the diving stop on Norichi Aoki in the eighth inning of Monday's win over the Brewers.
Wright's Good Play/Misplay ratio is 2-to-1 (16 GFP, 8 DM&E), far better than his 31 GFP, 32 DM&E tally last season and among the best in the game. It's on par with the player considered the NL's best defender-- Nationals third baseman Ryan Zimmerman.
The biggest difference from last season to this season has been in Wright's throwing arm, which has been repeatedly praised on game telecasts for being sharper.
Wright had 10 throw-related DM&E last season and had two in his first six games in 2012. But he's had just one in his last 26.
The one blemish for Wright is that he's average when it comes to Defensive Runs Saved, as he has 0 this season.
The average Mets fan would likely disagree with that and something to watch over the last 127 games will be how that number bounces around with the visible improvements Wright has made.
The Shift is Working
You're going to hear a lot about shifts this week, because the Mets are playing two teams -– the Brewers and Blue Jays -– who use it a lot.
Shifty Defenses
But the Mets have also employed it a decent amount. BIS tracks defensive shifting with video review and ranks the Mets 12th in shifts used with 31 (about one per game), all against left-handed hitters.
BIS breaks this down further, noting that the Mets have used the "Ted Williams Shift" against a batted ball 17 times this season.
That's a shift in which the shortstop or third baseman plays behind or to the right of second base, and the second baseman moves into shallow right field.
That defensive alignment worked in that it got outs on three of four line drives hit against it, and 11 of 13 ground balls.
The strategy has been to use it against the most extreme pull hitters, like Braves catcher Brian McCann, who had three ground outs and two line outs into the shift earlier this season.
Defensive Storylines to Watch
A few defensive storylines are still in development mode for the Mets. We'll check in on those later this season.
1-- How the Mets fare in centerfield. Angel Pagan's penchant for letting balls bounce off his glove and roll away led to the Mets ranking well below average in just about every metric related to this position last season.
So far, the combo of Kirk Nieuwenhuis and Andres Torres have rated about average, with the most egregious miscue being Nieuwenhuis's misplay of a potential game-ending blooper against the Giants. He does rank among the leaders in the majors in Web Gems with three.
2-- How the Mets fare against basestealers. The Mets have allowed 30 steals this season, tied for fifth-most in the majors. They've nailed 23 percent of attempts, tied for seventh-worst among the 30 teams.
3-- How Ike Davis handles first base. Davis has rated about average so far in Defensive Runs Saved and Good Play/Misplay Ratio (11 GFP, 5 DM&E).
Davis' trademark, his ability to snatch foul balls on the verge of going into stands, has happened twice this season. He and Travis Ishikawa are the two first baseman credited with a pair of GFP for such a play.
In-Depth runs every Tuesday