Travis Taijeron's alma mater, Granite Hills (Calif.) High School, has produced no shortage of major league talent. The list of former players at the El Cajon high school near San Diego includes Brian Giles, Marcus Giles, Shane Spencer, Tom Fordham, John Barnes, Mike Reinbach and Chris Jones.
The high school's all-time home run leader, though?
That would be Taijeron, an 18th-round pick by the Mets last year, who then became a New York-Penn League All-Star with the Brooklyn Cyclones after signing. Taijeron passed Marcus Giles' 24 homers early in his senior season and went on to finish with 33.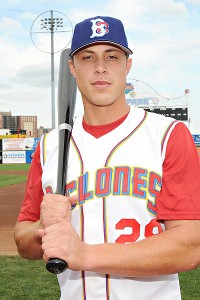 Courtesy of New York Mets
Travis Taijeron
The long-ball production has continued this season with low-A Savannah. Taijeron, 23, is hitting .291 with eight homers and 26 RBIs in 127 at-bats with the Sand Gnats. He also has walked 20 times and been hit with five pitches, resulting in a .405 on-base percentage.
Taijeron's 2012 homer total is tied for the Mets organization lead with Buffalo's Valentino Pascucci and St. Lucie's Cory Vaughn, and is tied for second in the South Atlantic League, trailing only Charleston's Tyler Austin, a 13th-round pick of the Yankees in 2010, who has 11.
"I like to think I can do a little bit of both," Taijeron said about maintaining a high average and also producing homers. "I do hit for power. My approach at the plate is not to try to go up there and hit home runs or anything like that. My approach is to get on base and to drive in runs. Every once in a while I just kind of run into it and put a good swing on a ball, or the pitcher makes a mistake, and I like to capitalize on it as best I can."
Back in high school, Taijeron played catcher. He did so during his first season in college as well, at Grossmont Junior College. But when he moved to Southwestern College for his sophomore season, the program already had an established catcher. So Taijeron shifted to the outfield. He continued playing in the outfield during his final two college seasons, at Division II Cal Poly Pomona. He primarily has manned center field, with some exposure in left field, since turning pro.
There has been no catching duty with the Mets. Not even bullpen sessions.
"I really liked playing catcher. I actually really loved the position and everything," Taijeron said. "But, at the time, [Southwestern] already had a catcher. I was the new kid on the team and everything. I think they went to the state finals that [previous] year, and he was one of the big leaders on the team. So it was best for the team that he stayed behind the plate and did his thing. He was one of the captains on the team. I was able to help the team out by moving to the outfield."
As for potentially becoming another product of his high school to reach the majors, Taijeron said the outfield wall at the California school's stadium always gave a reminder that was possible. The school recognizes the players who have made it to the big leagues with signs honoring them.
"The field has changed a little bit since then, but when I was at high school, we had all the baseballs on the outfield wall," Taijeron said. "There were all the different players and the years that they played at the high school and all that.
"My team, they were a really good group of guys, who grew up together since Little League. And we always looked at those guys. We were at games when I was younger and saw them play, so we knew what we always wanted to do growing up. Seeing those guys was kind of a big motivation for us to try to get our names on the walls."
Organization leaders
Average: T.J. Rivera, Savannah, .362; Bobby Scales, Buffalo, .339; Vinny Rottino, Buffalo, .314; Wilmer Flores, St. Lucie, .313; Eric Campbell, Binghamton, .310; Jefry Marte, Binghamton, .307; Zach Lutz, Buffalo, .307; Matt den Dekker, Binghamton, .294; Wilfredo Tovar, St. Lucie, .292; Danny Muno, St. Lucie, .292.
Homers: Valentino Pascucci, Buffalo, 8; Travis Taijeron, Savannah, 8; Cory Vaughn, St. Lucie, 8.
RBI: Travis Taijeron, Savannah, 26; Valentino Pascucci, Buffalo, 25; Danny Muno, St. Lucie, 23; Wilmer Flores, St. Lucie, 22; Aderlin Rodriguez, Savannah, 22.
Steals: Luis Nieves, Savannah, 9; Cesar Puello, St. Lucie, 7; Danny Muno, St. Lucie, 6; Pedro Zapata, Binghamton, 6.
ERA: Alex Panteliodis, Savannah, 0.89; Tyler Pill, Savannah, 1.89; Zack Wheeler, Binghamton, 2.05; Collin McHugh, Binghamton, 2.40; Chris Schwinden, Buffalo, 2.45; Cory Mazzoni, St. Lucie, 2.55; Jeremy Hefner, Buffalo, 2.72; Chase Huchingson, St. Lucie, 2.80; Angel Cuan, St. Lucie, 2.84; Rafael Montero, Savannah, 3.05.
Wins: Jeurys Familia, Buffalo, 4; Gonzalez Germen, Binghamton, 4; Chase Huchingson, St. Lucie, 4; Collin McHugh, Binghamton, 4.
Saves: Adrian Rosario, St. Lucie, 10; Fernando Cabrera, Buffalo, 8; Adam Kolarek, St. Lucie, 4.
Strikeouts: Jeurys Familia, Buffalo, 42; Matt Harvey, Buffalo, 38; Garrett Olson, Buffalo, 38; Tyler Pill, Savannah, 37; Zack Wheeler, Binghamton, 37.
Short hops
• Ex-Cub Bobby Scales, who signed with the Mets organization late in spring training and ranked third in the International League with a .339 average, has bolted from Buffalo. The second baseman/leadoff hitter worked out a deal with Orix to return to Japan. Scales played 80 games with Nippon Ham last season in that country. Oswaldo Navarro primarily will take over second base duty for Buffalo with Scales' departure.
• Corner infielder Zach Lutz suffered the latest in a career-long string of unfortunate injuries. Lutz broke the hamate bone at the base of his hand swinging in a cage pregame Sunday. That requires minor surgery to remove the bone, and will cost six weeks. Lutz, who had been tormented by stress fractures in his feet earlier in his career, was limited to 61 games last season with Buffalo primarily because of a pair of concussions.
Lutz's roster spot went to Corey Wimberly. He had been sidelined since suffering a broken fifth metatarsal in his left hand in an outfield collision during spring training with Vaughn while being borrowed from minor league camp for a Grapefruit League game at Disney against the Braves. Wimberly hit .238 in 172 at-bats with Pittsburgh's Triple-A affiliate last season while manning second base and all three outfield positions.
• Mechanical adjustments have led to a noticeable increase in velocity on right-hander Jeurys Familia's fastball since the start of the season with Buffalo. Familia was sitting at 92-93 mph during early season starts, but now is hitting 98-99 mph with some regularity. Familia still has been working behind in the count too often. Although he allowed only one run and five hits in five innings at Charlotte in his latest start, Familia required 101 pitches. Stilll, Familia (4-1) has limited opponents to two earned runs or fewer in each of his past five starts. He has struck out 42 and walked 30 in 37 2/3 innings.
• Vinny Rottino upped his Triple-A hitting streak to 18 games Tuesday. That streak has wrapped around a cameo in the big leagues. Before the major league call-up, Rottino exclusively had played left field. Ex-San Francisco Giant Fred Lewis since was signed and has taken over that position, so Rottino mostly has shifted to right field. But the 32-year-old utility man did catch for the first time this season on Tuesday.
• Right-hander Jeremy Hefner, who tossed three scoreless innings for the Mets against the San Francisco Giants during an April 23 doubleheader, had his streak of outings in which he tossed at least seven innings snapped Tuesday against Gwinnett. Hefner was charged with six runs in 5 2/3 innings. His ERA rose from 1.77 to 2.72, which dropped him out of the top 10 in the International League entirely.
• Left-hander Josh Edgin (7.20 ERA with Buffalo) produced his first Triple-A save Sunday at Charlotte.
• The Bisons, in part because of nomadic Scranton/Wilkes-Barre playing a home series in Buffalo, have started a 16-game homestand.
• Sean Kazmar returned to shortstop for Binghamton on Saturday after missing 21 Double-A games with a left abdominal strain. It was the first time in nine professional seasons that Kazmar had been on the disabled list.
• Zack Wheeler (2-2, 2.05 ERA) showed no ill effects from the middle fingernail issue that caused him to miss a B-Mets start. After missing a turn, Wheeler reentered the rotation Thursday at New Hampshire and allowed two runs on six hits while striking out seven and walking one in a 94-pitch effort over five innings.
• B-Mets center fielder Matt den Dekker has been hitting the ball with authority. Den Dekker has a 10-game hitting streak that has lifted his average to .294. He homered twice during a four-game weekend series at New Hampshire, including one Friday that snapped a 277-plate-appearance drought for the B-Mets without a long ball. Binghamton went on to post three homers Friday, then another three Sunday.
• First baseman Eric Campbell, an eighth-round pick in 2008 out of Boston College, is hitting .385 in 12 games since returning the DL for a right shoulder strain.
• Right-hander Kevin Mulvey, who has been working in relief with the B-Mets, landed on the DL with a right groin strain.
• Vaughn, who got off to a quick start with St. Lucie, has seen his average tumble to .234 during a seven-game stretch in which he is 1-for-28. Vaughn nonetheless has eight homers and 20 RBIs in 124 Florida State League at-bats this season.
• Center fielder Cesar Puello produced his first homer this season on Monday for St. Lucie. He had 10 homers last season in the Florida State League.
• With Chris Young and Jenrry Mejia temporarily working in St. Lucie's rotation, the regular starters have needed to adjust. Yohan Almonte has piggybacked Mejia's starts, while Angel Cuan has worked in relief of Young.
• Right-hander Domingo Tapia, who has received rave reviews from Mets brass, tossed 5 2/3 no-hit innings before being pulled from a start with Savannah on Friday. He walked three, and three errors were committed behind him, resulting in an unearned run.
• Third baseman Aderlin Rodriguez, whose average had tumbled to .190 with the Gnats, since has six hits in nine at-bats his past two games.
Adam Rubin's farm report appears Wednesdays during the regular season