With all due respect to Josh Hamilton, he's got competition when it comes to being the best player in Major League Baseball right now.
David Wright is more than worthy of being in the conversation after his latest stellar performance, in the Mets' 9-4 victory over the Cincinnati Reds on Thursday afternoon.
Don't be fooled by the final score -- this one had been penciled in to the losing column, with the Mets trailing 4-0 heading into the bottom of the fifth inning, facing one of the best bullpens in the bigs.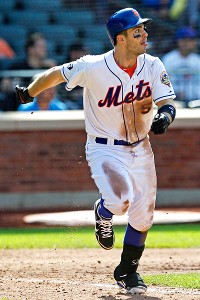 AP Photo/Kathy Willens
David Wright went 2-for-2 with three walks Thursday, raising his average to .411 and his on-base percentage to .513.Instead, the Mets rallied for yet another come-from-behind win, with Wright delivering the game-winning blow -- a one-out RBI double in the eighth inning that broke a 4-all tie, before his teammates tacked on four insurance runs.
"I've never seen anything like it," manager Terry Collins said, when Wright's name was brought up after the game. "It's unbelievable. You just look up, and he's on base."
In fact, Wright reached base in all five of his plate appearances Thursday, with a pair of doubles and three walks. Only after the game did we find out Wright has been under the weather the past two days.
"It was a lot worse last night," Wright said. "I didn't feel all that great. But good enough to go out there and play."
"I'd like to be able to play like that if I didn't feel very good, I can tell you," Collins said.
The Mets third baseman has now hit safely in 10 of the team's past 11 games, going 19-for-39 (.487) during that stretch.
When asked whether this is the hottest he's ever been in his career, Wright paused for a moment before answering. "I don't know, I don't know," Wright finally said. "When [Lucas] Duda and [Daniel Murphy] are swinging the bats the way they are, I'm seeing a lot better pitches to hit, and it makes my job a lot easier."
But the truth is, teams are starting to pitch around Wright -- as evidenced by the five walks Wright accumulated in this two-game series against Cincinnati.
The 49 Greatest Mets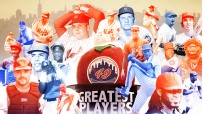 Fifty years after the Mets' first home game (they lost), we give you ...
The 49 Greatest Mets

Rank 'Em
You tell us: Who should be No. 50? »
Collins even compared Wright to Barry Bonds after the game.
"I'll tell you what I'm seeing; I'm seeing what David's doing compared to what I saw Bonds [do] when Barry was in Pittsburgh," said Collins, who was a coach with the Pirates in 1992 and '93. "Hitting fifth in the lineup, really not a lot of big bombers behind him, and all he kept doing was, when they threw him strikes, he kept getting hits, and otherwise he took his base on balls."
Hamilton, the Texas Rangers slugger, compares more favorably with Bonds, with 18 home runs already this season -- 14 more than Wright.
But Wright is pacing the majors in batting average (.411) and on-base percentage (.513), and he's tied for the lead in game-winning RBIs with six. No wonder Mets fans were chanting "M-V-P!" after Wright came through yet again in the eighth inning Thursday.
The last player to have a batting average this high on May 17 or later was the Atlanta Braves' Chipper Jones, back in 2008.
Wright did not want to talk about himself after the game, repeatedly deflecting questions by bringing up Duda and Murphy. To be fair, both of those guys did have nice games as well -- each had a pair of hits, Murphy upping his average to a not-too-shabby .331. (Plus he made a great defensive play, gunning down a runner at the plate after catching a pop-up in foul territory in the sixth.)
Actually, there have been a lot of heroes in the Mets' improbable 21-17 start, fueled by 12 come-from-behind wins after Thursday's rally against two relievers (Aroldis Chapman and Logan Ondrusek) who had yet to give up a run this season.
But Wright is the one everybody should be talking about.
Josh Hamilton went 0-for-2 on Thursday, so even he couldn't argue with that.