TORONTO -- Terry Collins keeps making it crystal clear: Jenrry Mejia is likely to work as a reliever this season in the majors, once a little more time has elapsed since his Tommy John surgery on May 16, 2011.
Mejia made his third minor league start Saturday, allowing one run on six hits while striking out three and walking none in three innings for Double-A Binghamton. He was pulled at 48 pitches, fewer than either of his previous starts with Class A St. Lucie.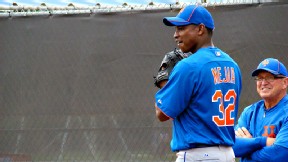 Adam Rubin
Jenrry Mejia remains likely to return to the majors as a reliever.
Collins explained the reduced pitch count was the organization being cautious because pitching in Double-A potentially requires more stress than facing lower-level Florida State League hitters.
"Because he was put in a little bit higher level, where a lot of times the effort level is increased because the competition level is a little bit better, we were concerned about the pitch count," Collins said. "So they backed down the pitch count a little bit. But his next start, I'm sure, will be back up there."
The manager reiterated, though, that Mejia very likely is going to transition to relief work at some point. Initially after that transition, Mejia will be restricted in that work, though -- including not pitching back-to-back days.
By the time he would eventually be promoted to the Mets, the 22-year-old right-hander would be capable of throwing on consecutive days, Collins predicted.
Sandy Alderson said upon Mejia moving from St. Lucie to Binghamton that Mejia likely would make two starts with Binghamton, then two for Triple-A Buffalo in what is considered the unofficial rehab phase from Tommy John surgery.
Mejia's first tour of duty in the majors came in the bullpen two years ago, as Jerry Manuel and Omar Minaya were fighting to retain their jobs and felt compelled to take the best 25 players north out of spring training.
"It's a process of getting him back 100 percent healthy," Collins said. "There are fast healers. He's one of them. He was actually pitching in games before the year (anniversary from when) he had surgery, which is great.
"But there's going to be a process of going out and getting some innings and getting a feel for his secondary pitches, getting a workload in, building up his arm strength, making sure he can come back. Because, when he gets here, most likely it's going to be out of the bullpen. So as he builds up his arm strength, then we've got to test him somehow as a reliever in the minor leagues, which is not going to be I'm sure back-to-back days. We're probably not going to do that."