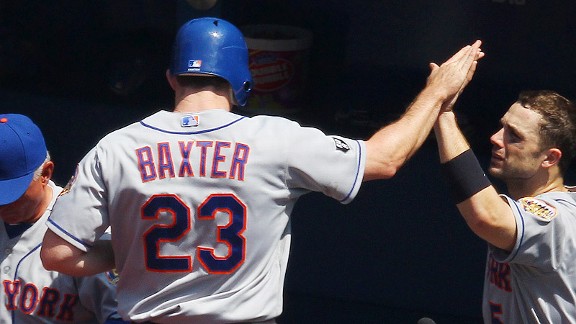 Tom Szczerbowski/Getty Images
Mike Baxter is congratulated by David Wright after scoring in the fifth inning, during a career-high three-hit day Sunday.TORONTO -- After another solid day Sunday in which he started in left field and produced a career-high three hits to up his season average to .390, pinch-hitter-extraordinaire Mike Baxter is due for increased playing time, manager Terry Collins promised.
"Against those righties in Pittsburgh, I've got to get him in the lineup," Collins said. "His at-bats, it's speaking for itself. You've got a red-hot bat like his, you've got to get him in there."
Baxter will not start Monday, when the Mets face left-hander Erik Bedard, but he could very well start the next two days at PNC Park, against right-handers James McDonald and Charlie Morton.
Baxter saw some action at first base during spring training, but Collins said he is not comfortable using him right now at that position. So Baxter's upcoming starts should come in the outfield, likely at the expense of Kirk Nieuwenhuis or Lucas Duda, rather than to Ike Davis' detriment -- at least in the short term.
"I don't think he's played enough first base," Collins said. "Even though he played a couple of games in spring training, he hasn't had one groundball during the season at first base. So I'm not comfortable with him over there right now."
CYCLISTS
Mike Baxter fell a homer shy of the 11th cycle in franchise history.
Baxter, who had to beat out Adam Loewen for the lefty-hitting backup outfielder roster spot out of spring training, noted he has plenty of first-base experience. The Whitestone, Queens, native has logged 150 minor leagues games at first base. He also played there in college at Columbia and Vanderbilt.
"I'm very, very comfortable at first," Baxter said. "I played it all through college. I played it quite a bit in the minor leagues, too. I can easily get back over there if that's something they want."
As for Sunday's performance, Baxter doubled in the first inning, had an RBI triple in the second and singled in the fifth. He had two more shots at the cycle, but grounded out and then walked -- falling a homer shy. He admitted thinking about becoming the 11th player in franchise history to hit for the cycle, but recognized homering is not part of his game.
"It crossed my mind," Baxter said. "But I didn't really want to get away from what I've been doing. I just want to try to keep the same approach. I don't want to start messing with it."
Baxter has only 49 professional homers between the majors and minors since debuting in 2005.
Baxter had one minor league cycle, with Triple-A Portland in the Padres organization on June 8, 2010 against Reno, which started Kris Benson.
"Inside-the-park home run, just FYI," Baxter said with a laugh.
One sign Baxter has arrived? Toronto fans were doing a derogatory chant directed at him as he played left field in the latter innings.
"That's one way to look at it," Baxter said. "Oh yeah, they were chanting my name. That was a good crowd today. That was a pretty good environment.
"They got me good."
Said David Wright: "He's been great. He goes up there and has a good at-bat. It's fun. I get to see it up close and personal in the on-deck circle, what he's been able to do in kind of spraying it around. He's been a terrific situational hitter for us. I think he's earned all the playing time that he's gotten. And I'm sure there's a lot more for him to come. He's been great for us, especially off the bench. Pinch-hitting is tough to do. And to do what he's doing is very impressive."