TORONTO -- Clean-shaven Dillon Gee, who dumped the pronounced goatee he had sported since the offseason after his last start, did not minimize the need for him to produce a performance like Sunday's outing.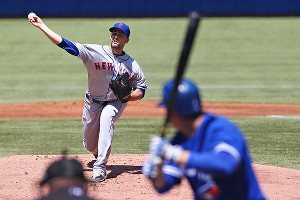 Tom Szczerbowski/Getty Images
Dillon Gee, despite control issues, picked up the win Sunday.
Recognizing the bullpen was overtaxed, and recognizing he needed to kick things into gear after allowing seven runs last week against Milwaukee, Gee turned in a credible effort against the Toronto Blue Jays. He was charged with three runs in 6 2/3 innings to even his record at 3-3 and lower his ERA to 5.44.
"I think it was a really big start for Dillon. I really do," Terry Collins said. "He needed to get back on track, obviously. He's shaved. He's done all the things that guys do when they think they're in a slump. He's changed socks. New shoes. All the things a player does to beat the jinx. Then he went out and pitched a great ballgame."
Said David Wright: "Dillon did a fantastic job today. He didn't look like he had his best stuff and struggled with command, but somehow got through 6 2/3, and that's impressive."
As Wright suggested, Gee said it's curious that he would have better results this time than last time, when he felt like he had better stuff.
Gee was having so much difficulty throwing a strike during the second inning on Sunday, pitching coach Dan Warthen recommended he throw entirely from the stretch. Gee eventually righted himself and cruised through the middle innings.
He wanted to get through seven innings, but was pulled after Jose Bautista touched him for a two-out RBI single that pulled Toronto within 6-3. Gee lamented that 0-2 pitch getting too much of the plate.
"Oh well," he concluded. "We won."