PITTSBURGH -- Terry Collins acknowledged it was a difficult decision to pinch hit for R.A. Dickey with the knuckleballer having limited the Pirates to one run through seven innings. But the manager wanted to take a shot with Pirates starter James McDonald having departed and Dickey's slot due up first in the top of the eighth.
So Collins inserted Andres Torres in the 1-all game. Torres struck out to extend his skid to 1-for-his-last-34, but the Mets ultimately scored a pair of runs in the inning and held on for a 3-2 win on Tuesday night. Dickey notched his sixth win, taking a share of the NL lead, at least for the moment.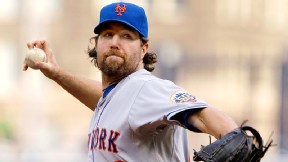 Gene J. Puskar/Associated Press
R.A. Dickey struck out a career-high 11 before
being pulled for a pinch hitter.
"When Andres strikes out, you say to yourself, 'Well, hell, R.A. could have done that,'" Collins said. "You're trying to do something. We're not swinging the bats right now. We had to try to see if we could get somebody on and get something started."
Said Dickey: "They were pitching well, too, and you've got to take a shot. I understood completely. He's got to do what he thinks is the best thing to do to win the ballgame. He's got faith in the bullpen. If Andres gets on there, it might start a rally. He's got a lot better shot than I do. Let's put it that way."
Dickey had a career-high 11 strikeouts and said he felt like he "grew" as a pitcher. He meant that he was able to control his knuckleball and have it move in the direction he wanted. Catcher Mike Nickeas said one of Dickey's most effective movements with the pitch was to have it seemingly dance upward as it approached the batter.
Dickey only threw three fastballs among his 88 pitches. The rest were knuckleballs.
In recent games, Dickey's knuckleball had been hit by opponents the third time through the order. So he had contemplated with pitching coach Dan Warthen and Nickeas going to a more conventional arsenal as the game progressed this time. But the knuckleball was so effective he never needed to deviate from using it.
"It was consistently good throughout the game, which was nice," Dickey said. "A lot of times it will leave and then come back. But tonight I felt like I had a really good one, and I had a couple of different kinds of knuckleballs tonight, which was really fun.
"I had the best feel of it. I could make it do different things, which not very often am I able to do that. A lot of times you throw it and it does what it's going to do. Tonight, mechanically, I was in a place where I could get it do a couple of different things when I wanted it to. And that's fun. That was the difference. It's not always like that."
• Tim Byrdak produced another key out, striking out lefty-hitting Pedro Alvarez to end the eighth and preserve the 3-2 lead for Frank Francisco to close out the game in the ninth. Yet with Byrdak on pace for 98 appearances, which would shatter Pedro Feliciano's club record of 92, Collins said he needs to use his second lefty, Robert Carson, as well in those situations -- for better or worse. Carson only has appeared in one major league game so far. And that was in Toronto with the Mets trailing by 13 runs.
"I've got to get Robert Carson in some of these games," Collins said. "Otherwise, Tim is going to really get tired here lately. I've got to get Robert some work -- in the tough situation. If he's going to pitch here, he's got to get used to it."
• Francisco tossed a 1-2-3 ninth and was locating his pitches far better than other recent outings. It was only the fourth time in 20 appearances as a Met that the closer did not surrender a hit or walk.
"I think Sunday's game was a huge stepping point for him," Collins said, referring to Francisco striking out three straight Blue Jays, while pitching against his former employer, to protect a lead after allowing the first two batters to reach.
Collins said Toronto manager John Farrell advised his Mets counterpart to "be patient [with Francisco], because it's there."
Francisco said he never lost confidence in himself and recognized it's not always going to be smooth sailing.
"If you stay around, you're going to see a lot of those bad games," Francisco said. "I'm ready for anything."
A reporter asked Francisco in the clubhouse postgame if he was "back."
"What do you see outside?" Francisco said.
"Looks that way," the reporter said.
"OK," Francisco said. "Cool."