After Jon Niese matched a career high by surrendering eight runs at Toronto on Friday to open the Mets' road trip, pitching coach Dan Warthen called a meeting that included Johan Santana, R.A. Dickey, bullpen coach Ricky Bones and Niese.
The message to Niese: More preparation is required.
The result: After extra pregame work, and using a highly effective backdoor cutter once he took the mound, Niese limited the Pirates to one run on five hits and two walks while striking out five in a season-high 7 2/3 innings Wednesday as the Mets beat Pittsburgh, 3-1.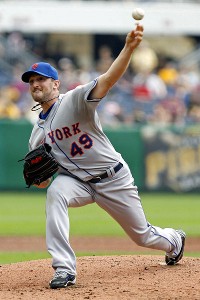 Charles LeClaire/US Presswire
Jon Niese tossed a season-high 7 2/3 innings against the Pirates on Wednesday afternoon.Of course, the Pirates and Blue Jays are polar opposites in terms of offensive firepower, but Warthen nonetheless was pleased.
"I think we all feel that Jon has great stuff," Warthen said. "Sometimes he trusts his stuff more than realizing that he has to pitch. Today I thought he pitched as well as using stuff. Understanding the hitters, knowing the hitters, seeing their faces, seeing their swings -- I'm really encouraging him to look at the video. See the swing. Understand a guy far away from the plate. Without even having a game report, you should have an idea how to pitch a guy. And he's starting to understand that.
"He and (catcher Rob) Johnson understood what we were trying to do and used his cutter a lot more than his curve today. He used quite a few changeups today. I think he only threw five or six curves all day long.
"That's the next step to being a really good pitcher -- not just saying that I have really good stuff, but I have to use my stuff in the proper way."
Niese said he did a better job in pregame preparation of studying what pitch a batter tends to have success on against left-handed pitchers, on which half of the plate the batter commonly is looking for a pitch, and how often his tendency to swing is in certain counts. Santana is considered a master in terms of reacting to hitters in selecting his next pitch.
"Rob does a great job calling games," Niese said. "He does a great job of reading hitters and what they're trying to do based on that. I do pay attention to it, but sometimes I get so focused on executing a pitch that it's kind of tough. But it's something I'm definitely working on, and something that definitely works.
"I did a lot more preparation this go-around. I still had to trust my stuff. And I still had to have confidence in it. I didn't want to go away from my strengths."
Said Johnson: "He was locating very well with his cutter and his two-seamer. We have obviously a game plan. But when I got out there -- it actually started in the bullpen -- I knew he had a little bit of extra life and he was really dotting his fastball and his cutter. I said, 'Hey, I'm going to go with this until they can hit it.' ... That's what like a Roy Halladay does with his cutter and his sinker on both sides of the plate. I mean, the results are similar."