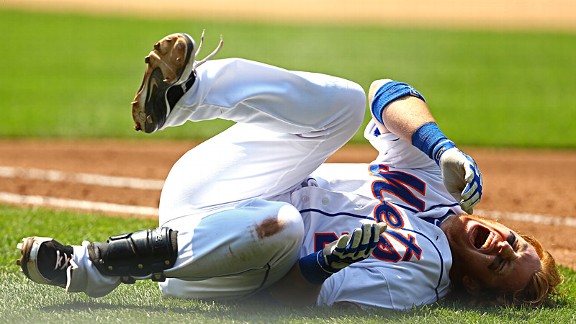 Al Bello/Getty Images
Turner crumpled to the grass in the third inning.Terry Collins said Justin Turner clearly is headed to the DL and will miss at least two to three weeks with a right ankle sprain, suffered while jamming his foot into first base on a rundown that ended the third inning Monday.
The Mets will promote Omar Quintanilla from Triple-A Buffalo to start at shortstop Tuesday. Quintanilla has major league experience with the Rockies and Rangers, but will require freeing a 40-man roster spot. That roster spot could come from Manny Acosta, who gave up three runs Monday and is a candidate to be designated for assignment.
The Mets announced that right-hander Chris Schwinden also will be promoted Tuesday, so clearly Acosta is vulnerable.
Ronny Cedeño is day-to-day with a calf injury, but likely will not be available to start Tuesday. Collins is not going the route of starting David Wright at shortstop.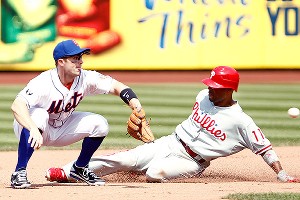 Debby Wong/US Presswire
David Wright cuts off Bobby Parnell's throw in front of second base, forgoing a chance at a double play to ensure the out at first.
Turner was not available postgame, but he told PR man Jay Horwitz his left leg -- which appeared to give out before reaching the base -- was healthy and the only injury occurred when his left leg jammed into the base. Collins initially thought Turner had blown out his Achilles' tendon, judging by his reaction, which included collapsing to the ground.
"The old adage is sometimes sprains are worse than breaks," Collins said. "We'll have to see. Obviously it will be two to three weeks, I'm sure. We're going to have to bring somebody else in here, especially right now, with Ronny day-to-day. We've got to get another infielder in here."
Said Wright: "We're thin at shortstop, obviously, if I'm playing there. It's tough to see him go down, especially with the way he's been swinging the bat lately."
Wright had one play at shortstop that resulted in questioning postgame, but he offered a valid explanation. Jimmy Rollins was in motion from first base on a hit-and-run with the score tied at 4 in the seventh inning when Bobby Parnell fielded a comebacker off the bat of Placido Polanco.
Wright, convinced Rollins would easily beat the throw, wanted Parnell to throw directly to first base. Parnell threw to second, though. Rather than potentially fail to get the forceout at second and then be too late on a relay throw to first base, Wright stepped in front of the base, allowing Rollins to be safe. He successfully retired Polanco at first.
Rollins eventually scored the go-ahead run in Philadelphia's eventual 8-4 win on Ty Wigginton's subsequent two-out single.
"As soon as the ball was hit, we were yelling, 'To first!' And Bobby just instinctively threw to second," Wright said. "So I just cut it off. I tried to gain as much ground as I could to get the out at first. I'm not sure if we were going to get him or not, but I didn't want to take any chances. We needed to get an out right there."
Wright logged his only other pro action at shortstop last season, playing the final two innings there in an Aug. 8 game against the Braves.
"It's kind of fried into your brain at third base. It's kind of second nature," Wright said about his instincts at his original position. "And shortstop. you have to think about it. I had to really focus on going through all the scenarios in my mind before each pitch."