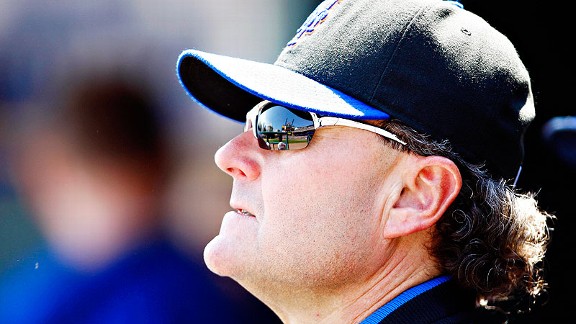 Leon Halip/US Presswire
When Rick Peterson arrived as pitching coach with the Mets, he spearheaded the development of a data-analysis system that aided in-game strategy.
Upon joining the Mets before the 2004 season as "CEO of pitching," to use Fred Wilpon's parlance, Rick Peterson sat down with GM Jim Duquette and chief operating officer Jeff Wilpon and discussed the computer-assisted game preparation he utilized with Oakland -- data-interpretation capabilities that Paul DePodesta had helped develop with the AL West club.
Rather than have the Mets buy a statistics service commercially available, Peterson advocated to buy the raw data from a company and then design an application in-house. Companies were willing to customize their services to the Mets' needs, but Peterson predicted to his new bosses that the team's analytic methods eventually would be peddled to other teams if the organization outsourced it.
Duquette and Wilpon were on board. And Ben Baumer, a young Mets statistical analyst, went to work writing the in-house program, incorporating Peterson's needs.
"He's absolutely just brilliant," said Peterson about Baumer, who now is leaving the Mets to teach at Smith College in Massachusetts. "Not only was he brilliant from a technical standpoint, but he had insight to go with it regarding things that I wanted to see, and had the creativeness as well. He was the total package. He was brilliant, smart, intellectual, creative. The key is to have user-friendly data for coaching staffs and managers. He had that knack. I worked with other people before him who were really smart, really intelligent, but they couldn't transition it to make it user-friendly. It's almost as if they couldn't see it through the eyes of baseball people necessarily. It was just pure data."
How sophisticated was the data the Mets had on their opponents during their 2006 run to within a game of the World Series?
"We certainly were totally prepared for anything that was going to happen in that ballgame," said Peterson, who now oversees minor league pitching for the Baltimore Orioles. "For example, let's say we brought in Pedro Feliciano to face a left-handed hitter for an opposing team in July or August. We knew if a left-hander came in to face that hitter, how many times would that manager pinch hit for that hitter -- and what were the game situations that he would pinch hit if he did pinch hit.
"Or, say we're playing the Phillies back in that day and they get to the pitcher's spot and we have a right-hander in there. Let's say we have Feliciano or (Scott) Schoeneweis ready in the bullpen and that they pinch hit Matty Stairs. We would have a record of if we bring in Schoeneweis or Pedro to face him, how many times would they not let Matty Stairs hit and they would bring in Wes Helms to hit, or whoever else was on their bench. It was all those types of things -- when a team hit-and-run, what count, what situation. When a team stole. Any event that happened in a game, we had predictive analysis of what the past history was."
Commercially available applications now have vast data that was not widely available then.
Peterson notes it's more than spray charts of where a batter places a ball and more than what a hitter does with an 82 mph slider down and away. PITCHf/x cameras installed in every ballpark measure the horizontal and vertical bend of every pitch. That can allow a coach to adjust where a pitcher stands on the rubber in order to make sure the path through the strike zone is least friendly to the hitter.
"In-depth" appears Tuesdays during the regular season