Mets special assistant J.P. Ricciardi had to come away impressed after watching right-hander Zack Wheeler's most-recent start with Double-A Binghamton. After all, the prized prospect, who arrived in the Carlos Beltran trade with San Francisco, limited New Britain to one run and two hits in a career-high eight innings while shaving his Eastern League ERA to 1.97.
One scout who watched the performance certainly offered high praise, telling ESPNNewYork.com: "If he's not the top prospect in baseball, he's pretty close." The other minor league pitching prospects also cited: Jarred Cosart, Trevor May and Dylan Bundy (whom a different scout labeled a Tom Seaver clone).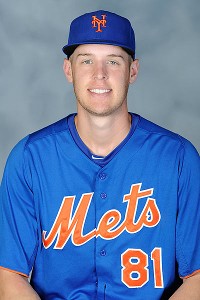 Courtesy of New York Mets
Zack Wheeler
"This kid's got it," the scout said about Wheeler, while comparing his free-and-easy delivery to Rays left-hander Matt Moore. "The ball comes out of his hand real easy, 94-97 mph. He throws three off-speed pitches for strikes. He'll grow into his control."
Wheeler, who turns 22 on Wednesday, has not allowed more than two runs in any of his eight Double-A starts. In 45 2/3 innings, he has surrendered 27 hits and 21 walks while striking out 52 and limiting opponents to a .175 average. An intended Miguel Batista rehab start with the B-Mets and rainout have pushed Wheeler's next outing to Thursday at Reading.
"I know the way the fastball command is right now, he can go up to the big leagues and compete," B-Mets manager Pedro Lopez said. "He's got the stuff. But it'd be kind of unfair. If you put him tomorrow there, it might be an eye-opener for Zack. Hey, but you know what? He's doing a great job. The biggest thing for him right now is just his fastball command. He's been doing a good job lately. That helps him out. Guys, they just don't get good swings off him."
Wheeler's areas for improvement?
"Command of my offspeed pitches, really," Wheeler said. "I've been working on my changeup a good bit the past few weeks, and to get my curveball over early in the count -- being able to throw everything for strikes."
Wheeler's control was more of an issue early in the season than now. He hit a combined four batters in his first two starts of the season, then walked six in his fourth start.
Lopez cited cold April weather, noting Wheeler -- a Georgia native -- never really had pitched in cold temperatures like in upstate New York in the early season.
"Actually, his first outing here, I asked him, 'Have you ever pitched in weather like this before?' He said, no," Lopez said. "The walks and the hit by pitches were early in the year. Now the weather is warming up and he's just getting better."
"It didn't affect me really bad, but in between innings you're sitting there just freezing," Wheeler said. "There's a big difference between playing baseball your whole life in the Southeast and coming up here."
Still, Wheeler added: "You don't blame the weather for anything like that. It's just the beginning of the year, trying to get back into things."
Wheeler missed one start this season, with a middle fingernail issue that also affected him with the Giants. The nail, which remains discolored, is prone to disconnect from the skin.
"Something underneath the nail was really tender because it was fresh, and I just couldn't put any pressure on the ball," Wheeler said. "Just that one start."
As for the timetable for a promotion to Triple-A, the Mets are not offering much publicly. Sandy Alderson has intimated, though, that spending the final month to six weeks of the season with Buffalo could be in Wheeler's future.
"We're all just pitchers, just like everybody else," Wheeler said, talking about the touted quartet that includes Matt Harvey, Jeurys Familia and Jenrry Mejia. "We have to go out and perform. If we don't perform, we're not going to go anywhere. Y'all can group us how you want, but you've got to go out and perform every time so you can get up where you want to be."
Said Lopez: "Here's a kid who's 21, 22 years old and, I mean, he's so professional about everything he does. You would never tell that this kid was a No. 1 pick by San Francisco. He's like any other kid out here. He goes about his business the right way. And I think that's what's going to make him a good player."
LOOK FOR PART II OF THE FARM REPORT AROUND NOON, WITH ORGANIZATION STATISTICAL LEADERS AND PLAYER NOTES.
Adam Rubin's farm report appears Wednesdays during the regular season