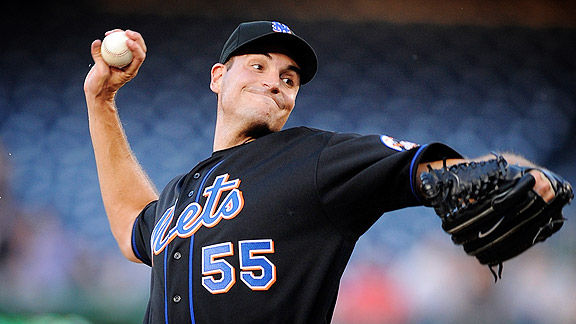 Greg Fiume/Getty Images
Chris Young, back and better than ever? Sure, why not?As Sandy Alderson predicted earlier in the week, Chris Young is expected to remain with Triple-A Buffalo for one or two more starts. Young tossed six scoreless innings Thursday against Triple-A Columbus.
"If he can do the same thing he did today five days from now, he's pretty close to being ready," Bisons manager Wally Backman said, according to the Triple-A club. "He's a smart pitcher. That's why he's had the success that he's had in the big leagues. Now, all we hope for is that we keep him healthy."
Young's fastball topped out at 84 mph. He allowed two hits and three walks.
Young's fastball actually only averaged 84.7 mph last season with the Mets as well as in 2010 with the San Diego Padres.
"I don't worry about velocity," Young said via the Bisons. "I worry about life, and the ball had life to it. There weren't that many hard-hit balls. ... I tried to mix my pitches, work up and down, get ahead in the count and be aggressive. ... At this point in my rehab, it's about feeling good most importantly. But then also, you'd like to have the results to go with it. Today, I had both. It's a work in progress, there's still things to improve upon, but I'm happy with the results and happy with the way I felt."
Young was making his fourth minor league start since returning from surgery to repair a torn anterior capsule in his right shoulder, which was performed on May 16, 2011. His first three appearances came at St. Lucie. It was the same procedure Johan Santana underwent on his left shoulder.
Young went 1-0 with a 1.88 ERA in four early season starts for the Mets last season before undergoing the procedure. He signed a minor league deal with the Mets near the end of spring training.
Young has a contract out on Friday, but indicated that is a non-issue. He has another out on July 1 if not promoted to the majors by then, but a resolution should occur well before then. After no more than a couple of more starts with the Bisons, Young likely will assume the rotation spot initially held by Mike Pelfrey, which also has been occupied by Chris Schwinden, Miguel Batista and Jeremy Hefner.
As we reported earlier on the blog, Josh Thole -- who caught Young -- thinks the pitcher is stronger than he was a year ago.
"I thought his velocity, to be honest, was better than it was last year," Thole told the Buffalo News. "I don't know what the board had or whatever, but personally the ball was coming out of his hand much better. That's very encouraging. ... I saw him pitch the other night in Florida. I wasn't catching, but I went and sat there and watched him pitch. His stuff was still good. But when you're facing guys who have been in the big leagues, up and down or whatever, that's when you feel where you are."