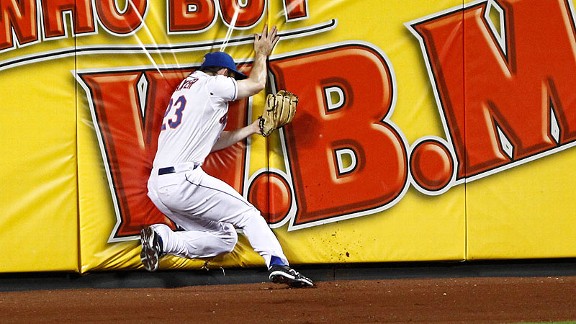 Debby Wong/US Presswire
Mike Baxter, a Queens product who grew up a Mets fan, made a catch that will never be forgotten.He struggled to put on his shirt in front of his locker, the pain of a crash into the left-field wall still reverberating through his left shoulder.
The crash, which followed a catch that proved to be the biggest defensive play in preserving Johan Santana's's no-hitter, knocked him from the game, forcing him to watch the final innings in the training room and bringing on a litany of tests.
The crash resulted in the best sore shoulder Mike Baxter's ever suffered in his 27 years.
"Absolutely," Baxter said. "I'll take it any day of the week."
With the Mets recording their first no-hitter in franchise history, Baxter's amazing grab in the seventh inning is going to be the play forever remembered. The Whitestone, N.Y., product, who grew up a Mets fan, sustained a left shoulder contusion but made the grab that led to the end of the team's most dubious streak.
"What a night for the Mets," Baxter said. "As a Mets fan as a kid, it's a huge night for the Mets. We've been waiting a long time for a no-hitter. Nobody better than Johan."
Speaking after the game, Baxter said he was OK, but there will be more tests upcoming, including an MRI. On this night, though, the pain didn't matter. He had too much pride in his teammate's accomplishment, one that snapped a streak of 8,019 games without a no-hitter. He could forget about the tightness for a few hours.
With one out in the seventh, Yadier Molina ripped a rocket to left, a ball that at least one teammate thought was going to drop in to end the no-hitter. Baxter rushed back, somehow managing to extend his left arm and secure the ball before he barreled into the wall, his shoulder bearing the brunt of the force.
As the crowd went nuts, Baxter lay prone on the warning track, unable to get up. He eventually was able to walk off, leaving to a standing ovation. Seven outs later, Santana made sure that Baxter's catch wasn't for naught, striking out David Freese to complete the no-hitter. From his training room table, Baxter exploded with joy.
"That was it man. That play will go down in infamy," pitcher R.A. Dickey said. "Mike Baxter will forever be in New York Mets lore. And I'm glad. I don't know what the extent of the injury is, but if he had to leave the game, at least we were able to pull out the no-hitter. The fact that he shares in that is pretty fantastic. That was the play of the game."
A local who played his high school ball at Archbishop Molloy in Queens, Baxter is all too familiar with the plight and agony of Mets fans when it came to no-hitters.
Friday night, he gave Mets fans a reason to be jubilant, allowing them to celebrate baseball history while he earned himself a place on the team's Mount Rushmore of those who made great defensive catches -- alongside Endy Chavez, Ron Swoboda and Tommie Agee.
"I'm just glad to have a part in such a historic night," Baxter said. "It's an honor for me."