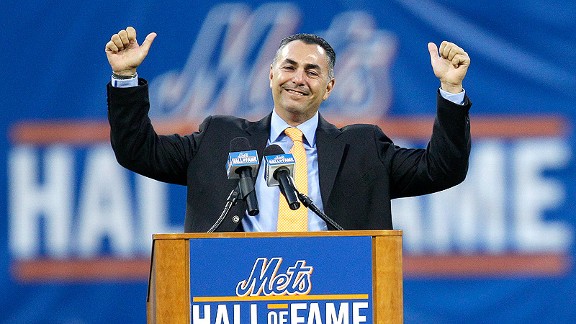 Kathy Willens/Associated Press
John Franco is inducted into the Mets Hall of Fame during a pregame ceremony.
John Franco entered from the Mets bullpen at Citi Field as "Johnny Be Good" blared on the speakers. Then the Mets' all-time leader in saves (276) and games pitched (695) officially became the 26th member of the team's Hall of Fame in a pregame ceremony Sunday.
Franco said it is particularly meaningful given his New York City roots.
"It means a lot to me, growing up in Brooklyn and rooting for the Mets as a kid, and always dreaming about one day playing for your favorite team," Franco said. "To have the opportunity to play for your favorite team, and to be in your favorite team's Hall of Fame with guys who were my heroes -- the (Tom) Seavers and (Tug) McGraws, the Tommie Agees and Bud Harrelsons, to be on the wall with those guys, it means an awful lot to me."
Franco was joined by former teammates Todd Zeile, Dwight Gooden, Darryl Strawberry, Al Leiter, Edgardo Alfonzo, David Cone, Bret Saberhagen and Jeff Innis as well as former St. John's University teammates (and Lou Carnesecca) and members of the 1969 Mets for the ceremony.
Franco added that Turk Wendell and Dennis Cook -- "my two favorite guys in the bullpen" -- wanted to attend but have children playing in the Little League playoffs.
The Mets wore black jerseys for the first time this season on Sunday night -- the signature uniform of Franco's Mets teams.
Franco identified his favorite Mets moments as representing the team in the 1990 All-Star Game, Mike Piazza's homer in the first game in New York after 9/11, and the 2000 playoffs, including the division series against the San Francisco Giants and Barry Bonds.
Franco -- who paid tribute to his father, a longtime city sanitation worker -- is currently employed by the Mets as a team ambassador. He said he spends a good deal of time following the Brown University baseball team as well, since his son J.J. is on the squad as a second base, who made second-team all-Ivy.
Franco and David Wright overlapped during the '04 season with the Mets. Franco told Wright on Sunday that the current edition of the Mets reminds him of the 2000 squad that reached the World Series.
"I just told David now: This team reminds me of the 2000 team, when nobody kind of gave us a chance," Franco said. "We had one superstar in Mike. And they have David. We had (Mike) Hampton and Leiter. And they have (Johan) Santana and (R.A.) Dickey and (Jon) Niese, and everybody else is contributing. For the guys who are getting hurt, guys are coming up and doing the job. This time reminds me of that. They're a bunch of scrappers, blue-collar guys."
Franco attended Santana's no-hitter.
"I was fortunate enough to be here," Franco said. "I was here with my son. It was very, very satisfying for me to see that finally the streak is over. No longer can they say the Mets don't have a no-hitter. And what better guy for it to happen to with what he's been through the last year and a half or two years with that surgery?"
He knows new hero Mike Baxter, like him, found his contribution extra special because of his roots growing up in the city as a Mets fan.
"I just saw Mike before and congratulated him on a great catch," Franco said. "I think it means a little bit more for us, guys who grew up rooting for the teams. It's a little bit extra special. It's humbling."