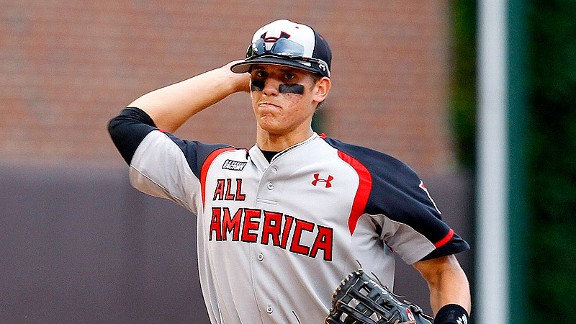 Mike Janes/Associated Press
The Mets drafted Louisiana high school shortstop Gavin Cecchini in the first round Monday.
Louisiana high school shortstop Gavin Cecchini worked out at Citi Field on Friday for Mets executives. He then stuck around for the game. It just so turned out to be Johan Santana's no-hitter.
Now, three days later, the 18-year-old Cecchini (@GavinCecchini2) officially is part of the Mets family. He was selected by the club in the first round, 12th overall, Monday night. The Mets then selected Purdue University catcher Kevin Plawecki with the 35th overall pick, one of two selections obtained for losing Jose Reyes.
"It was unbelievable," Cecchini said about Friday night's atmosphere. "You don't get to see too many no-hitters. And I was there to witness the very first time in the Mets' history. It was unbelievable. The place was rocking. It really was an awesome scene. The fans were great over there."
Cecchini spoke with David Wright for 15 minutes that day, and said "it seemed like we were best friends."
Added Cecchini: "He actually called me after I got drafted and we talked for a little bit and said he hoped in a few years we're going to be teammates."
Cecchini had been to New York only once before, during an off-day while representing South Lake Charles, La., in the Little League World Series in 2006.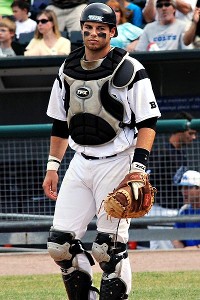 Joe Raymond/Associated Press
Purdue catcher Kevin Plawecki was taken with a pick obtained for losing Jose Reyes.
"It's awesome," Cecchini said. "And I don't want to be anywhere besides this city, playing for the New York Mets."
Cecchini hit .413 with seven homers, 32 RBIs and 31 steals as a senior for Class 5A state champion Barbe High School, which was coached by his father Glenn. He was named Mr. Baseball in the state. He had committed to Ole Miss. Cecchini's brother Garin was drafted in the fourth round in 2010 by the Boston Red Sox. He currently plays for Class A Greenville in the South Atlantic League.
Cecchini hit .500 with 17 RBIs in 15 games while leading the USA Baseball 18U national team to the gold medal at the Pan American Championship in Colombia in the fall.
Paul DePodesta said both picks -- albeit one high school and one college -- had a common thread.
"I don't think we go into the draft that we want to target anything that's related to the major league club, or any even specific need in our system," DePodesta said. "That said, we want middle-of-the-diamond players -- catchers, shortstops, center fielders -- if we can get them. And so we do target those players regardless. Needless to say we were thrilled to come up with a shortstop in the first round and a catcher in the comp round. We think those players have multiple ways to help the team. They're incredibly hard to find. And in these two players in particular, they're both offensive and defensive at what are premium defensive positions."
Plawecki, 21, hit .359 (80-for-223) with seven homers and 47 RBIs in 59 games. He struck out only eight times -- the type of plate discipline that matches the Mets. (Read Plawecki's college bio here.)
"No doubt, it's a terrific skill of his, as well as some other things he brings to the table," DePodesta said. "And we think he's a special receiver defensively. Special. He certainly has a terrific eye at the plate.
"There's no real secret about our offensive plan here. We have a system that we believe in, and we believe in it at the major league level as well as through the minor league level and into the scouting ranks."
Said Plawecki: "I think I just have a good eye. I can recognize things very well."
The Mets have now selected high school picks with their top selections both years of Sandy Alderson's regime. Wyoming high school outfielder Brandon Nimmo was drafted 13th overall a year ago. Nimmo and Cecchini consecutively were named MVPs of the Under Armour All-American Game at Wrigley Field.
Keith Law has these scouting reports:
Cecchini, the younger brother of Red Sox farmhand, Garin, has a better chance to stay at shortstop than his brother did while sharing the same solid makeup and strong feel for the game.
Gavin Cecchini starts with a very wide base at the plate and gets wider as he strides -- far wider than he did last summer -- leaving himself somewhat off balance through contact, although closing his initial stance could mitigate this. His swing is somewhat rotational with slight loft but not the kind that will produce big power; it's not great bat speed but his hand-eye appears to be very strong, and getting him more balanced at the plate should improve his contact rates and doubles power with wood. In the field, Cecchini has a plus arm with a very quick release, soft hands, and the agility to be an above-average defender at short in pro ball.
There's a utility-player floor here that makes him somewhat safer than most high-school picks, but I'd be surprised if that's all he turns out to be.
Plawecki is the best prospect on a Purdue squad that won the Big 10 title for the first time in 103 years and hosted an NCAA regional for the first time as well. He's a fringy defensive catcher who's better at the mental aspects of the position than the physical aspects, but whose ability to make contact should help him become an above-average hitter for the position.
He has a largely linear swing, and while he keeps his weight back well he doesn't use it to drive the ball, instead making a lot of gap-to-gap contact; his swing can get long, which is particularly damaging due to his lack of power, and he'll need to keep it consistently shorter in pro ball. Behind the plate, his receiving is average but his arm is below-average, just not enough to force him off the position. He has an everyday catcher ceiling because of makeup and scarcity at the position he plays.