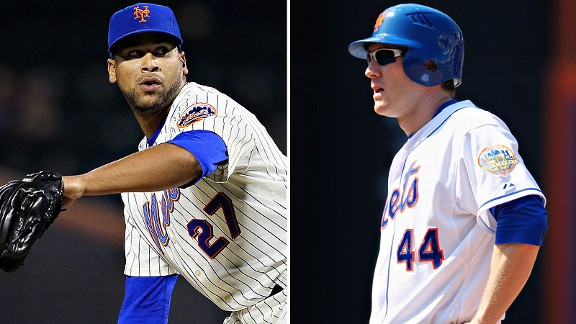 Getty Images
Pedro Beato and Jason Bay are rejoining the Mets for Wednesday's game from the DL.
WASHINGTON -- Jason Bay and Pedro Beato both have been activated from the disabled list for Wednesday's game against the Nats.
The Mets placed Chris Young on paternity leave to temporarily free one roster spot between his starts. Josh Satin also has been designated for assignment to clear room.
Satin now will be exposed to waivers and must clear in order to be sent to Triple-A Buffalo. Beato needed that 40-man roster spot, since he did not count against it while on the 60-day DL.
Beato began the season on the DL with shoulder discomfort suffered during spring training. He made nine rehab-assignment appearances, the final six with Buffalo. Overall, he allowed one run on seven hits and five walks while striking out 10 in 13 innings.
Young's wife Liz gave birth to the couple's third child, Grant Christopher, at 9:45 this morning. He weighed 9 pounds, 5 ounces.