Let's take one last look at Johan Santana's no-hitter against the Cardinals a week ago, and let's look at it from this perspective.
A lot of things have to go right for Santana to pitch a no-hitter. Sometimes a missed call or two may play a role. But there's more to it than that.
Let's zoom in statistically on three moments after Carlos Beltran's controversial foul ball and look at how things fell into place just right for history to be made.
6th inning: Matt Holliday strikeout
The ideal place to throw a changeup is one such that the pitch descends just below the knees as it crosses the plate.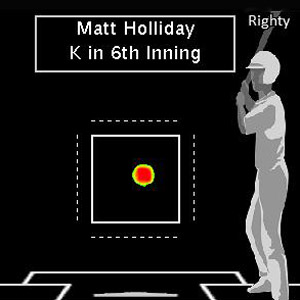 Santana's 3-2 changeup to Holliday was in a location less than ideal, almost dead-center in the middle of the plate.
The typical major league hitter misses on a two-strike changeup to this area about once in every seven swings. The other six, he makes contact, either hitting it, or fouling it off.
This happened to be the right one for Santana. Holliday swung and missed for the second out of the inning.
It's not the first time Santana has been fortunate with a two-strike pitch to this area this season. He's thrown five to a right-handed hitter, netting four outs.
And no hits.
7th inning: Yadier Molina flyout
Mike Baxter saw Endy Chavez's catch in Game 7 of the 2006 NLCS not far from the campus of Vanderbilt, where he was taking classes during the minor league offseason.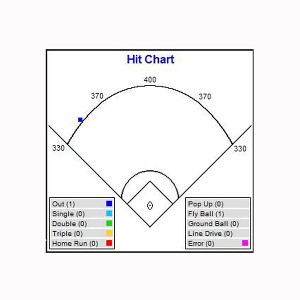 The landing spot for Yadier Molina's fly ball.
"I didn't think there was any way they were losing after he made that catch," Baxter said a few days ago.
The Mets were done in that night by Yadier Molina. That's the same Molina who swung at an 88 mile-per-hour fastball from Johan Santana and hit it an estimated 355 feet to left field
On April 12 against Paul Maholm and the Cubs at Busch Stadium, he hit the ball to that area with just a little more distance and had himself a home run.
We have an array of tools at our disposal that allow us to look at performance by batted-ball distance and location.
Estimates vary as to how successful a hitter will be if he hits the ball 355 feet or farther to left field with about four seconds of hang time in a major league ballpark. The folks at Baseball Info Solutions, a company that tracks hit location data, estimate that balls fitting the profile of Molina's have about a 45 percent chance of being a hit.
Except last Friday at Citi Field, there was no chance, thanks to Mike Baxter.
9th inning: David Freese strikeout
Entering Friday, Santana had thrown five changeups in a 3-2 count this season and the pitch was a 50-50 proposition. He'd gotten Hanley Ramirez and Casey McGehee out, and walked Ramirez and Taylor Pastronicky (the fifth was a foul ball by Drew Stubbs).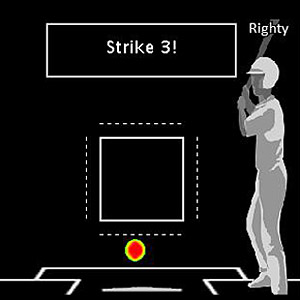 Through the first eight innings on Friday, the pitch was a 50-50 proposition as well. He walked Freese with one. He struck out Holliday another (as noted above).
With two outs in the ninth inning, Santana had one more changeup to throw. He put it in a spot in which there are no guarantees that a hitter would swing. In previous seasons, he'd gotten Holliday to chase that pitch a couple of seasons ago, but he'd also bounced it to Troy Glaus, and to Ramirez earlier this season.
In a Subway Series matchup with the Yankees two years ago, Alex Rodriguez saw a pitch in virtually the same spot that Freese would.
It was the closest match we could find. He took it for ball four.
Freese would not take it.
But he wouldn't hit it either.