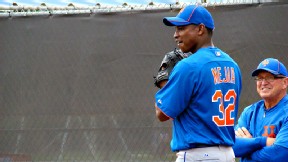 Adam Rubin
Jenrry Mejia's role is expected to imminently shift to the bullpen in the minors, in preparation for a major league call-up.Jenrry Mejia, who opposes Jamie Moyer on Saturday night at Buffalo, is likely making his final minor league start before shifting to a bullpen role with the Triple-A club, an organization source told ESPNNewYork.com.
Mejia, 22, has been capably pitching in a starting capacity as he works back from Tommy John surgery, which was performed on May 16, 2011. The role allowed Mejia to work on his secondary pitches with guaranteed regular work. But Mejia is likely to contribute to the major league club in relief within a couple of weeks, and now has been deemed ready to get exposure to bullpen duty with the Bisons to ready for that major league role, the source said.
Mejia has made six minor league starts entering tonight's International League game -- two apiece at Class A St. Lucie, Double-A Binghamton and Buffalo. Overall, he is 1-0 with a 2.97 ERA. Mejia allowed 22 hits and seven walks while striking out 21 in 30 1/3 innings.