Dillon Gee said his body "felt dead" during Saturday night's 4-2 loss to the Yankees, during which he surrendered three runs in seven innings. The right-hander did not mean that he was injured in any way -- just that every time he returned to the dugout after pitching an inning, his body shut down like the outing was over.
Gee said the culprit might have been the cold air blowing from air conditioning in the visitors' dugout at Yankee Stadium, which gave him problems even while wearing a jacket and towel.
"It was weird," said Gee, who walked three leadoff batters in a four-inning span. "I felt great in the pen. I came out of the pen and almost felt like I couldn't get warm after that. I was having trouble staying warm between innings. I was up, walking around, trying to move around and stay warm. I just couldn't get loose each and every inning."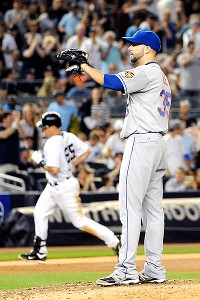 Kathy Kmonicek/Associated Press
Dillon Gee, who served up a two-run homer to Mark Teixeira, tossed seven innings despite feeling less than stellar on the mound.
As for the decisive two-run homer to Mark Teixeira in the sixth that gave the Yankees a 3-2 lead, Gee said it was the right choice of pitch. He just didn't get the thigh-high curveball down enough.
Gee also had trouble with the Stadium mound. He said it was all clay -- seemingly unlike other stadiums. And when Gee dragged his foot during his delivery, it would get stuck, not slide. That accounted for the first-inning balk as well as a tumble as he delivered a pitch to Raul Ibañez later that inning. Gee proceeded with the pitch to Ibañez, knowing he would fall, because he did not want to stop and balk again.
"I thought I battled out there today," Gee said. "I didn't feel very good. Obviously I thought I scrapped through seven innings."
BAY OK: Jason Bay said it may have appeared his fractured rib bumped the wall in foul territory on an inning-ending catch in the third on Robinson Cano, but that was not the case. It actually was his leg that made contact with the wall. "As of this point right now, I'm completely fine," Bay said.
PINCH WHO? Terry Collins said he pinch hit Jordany Valdespin for Scott Hairston in the ninth with two out and two runners on base because Rafael Soriano is difficult against righties.
"And Jordany late in the game has come through with some big hits against some good right-handed pitching," Collins added. "So I took a shot."
Valdespin flied out to end the game.
POWER OUTAGE: The Yankees lead the majors in homers with 90. The Mets have 47, despite long balls from Omar Quintanilla and David Wright on Saturday. That left little margin for error.
"We've got to have someone step up and get some hits," Collins said. "We seem to be riding David pretty much solely. We've got to get some guys to chip in. You know, singles don't win many games in this park."
Said Wright: "When we don't get guys on base and keep that line moving, we're not going to be able to outslug teams like this. That's for sure. We're having a tough time right now getting on base and just sustaining some rhythm offensively."
Along those lines, Collins was asked whether Ike Davis needed to sit because of his lack of production.
"The point is: Where does it come from?" Collins said about the power if Davis loses his job. "… Where is that guy that can provide power. That guy is Ike Davis. Ike Davis has as much power as anybody in the ballpark tonight. We've got to get him going."
Davis actually reached base three times Saturday -- twice via walk. He has walked six times in his past five games.
"It's definitely a step in the right direction," Davis said. "Usually, over my small career, when I start walking more, the average ends up coming up. Hopefully I can continue to see the ball better and only swing at pitches that I know I can hit. Really, if you think about it, walks are just as good as a hit. It may not show it on your average, but for your team it is."
Collins said postgame he was unsure whether Davis or Vinny Rottino would start Sunday at first base against Andy Pettitte.