You can exhale now, Mets fans. Johan Santana is just fine.
After two straight poor starts following his 134-pitch no-hitter on June 1, Santana looked like his old self on Tuesday, hurling six shutout innings in a 5-0 victory over the Baltimore Orioles.
"I think it was really big for Johan," New York Mets manager Terry Collins said. "He had much better stuff today. Had life to his fastball, his breaking ball had much better depth to it."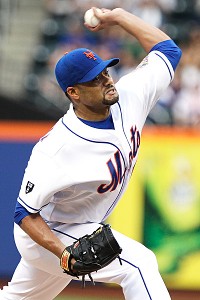 AP Photo/Frank Franklin II
After a couple rough outings following his no-hitter, Johan Santana was his old self Tuesday.Santana had given up 10 runs in 10 innings in his previous two outings against the New York Yankees and Tampa Bay Rays, leading to speculation that he may have overexerted himself while making history against the St. Louis Cardinals 18 days ago.
But it may simply have been a matter of routine. Santana pitched with extra days off leading up to his previous two starts. This was his first outing on normal rest since the no-no.
"I feel fine," Santana said. "Definitely is good to be back in the routine."
Santana threw 101 pitches on Tuesday, giving up just four hits, with five strikeouts and two walks. His biggest test came in the top of the fourth, when the Orioles put runners on second and third with one out. The veteran lefty responded by striking out Mark Reynolds (swinging) and Steve Pearce (looking) to hold Baltimore at bay.
The Orioles also had two runners aboard in the sixth, but Santana induced Reynolds to ground out to short to end the frame.
"I just tried to stay with my mechanics," Santana said. "One of the things that I do when I'm pitching is, I want to make sure I establish my fastball inside, and that's what I was trying to do. When I do that, my changeup is better."
The Mets, on the other hand, delivered hits in big spots. Lucas Duda clubbed his 11th home run of the season in the bottom of the sixth, a two-run shot that put the Mets up 3-0. And 24-year-old Jordany Valdespin drove home two more runs with a two-out RBI single in the seventh -- his second hit of the night, and fourth in the past two games.
The 49 Greatest Mets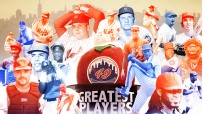 Fifty years after the Mets' first-ever home game (they lost), we give you ... The 49 Greatest Mets

Rank 'Em
"Jordany Valdespin is a very talented young man, and he's growing on the job," Collins said. "I thought he's handled himself very well up here so far."
Before the game, Collins explained that he was giving Valdespin a second consecutive start because "he's adding some spark, he's adding some energy" -- just the latest button Collins has pushed this season, usually with positive results.
But the biggest reason the Mets currently stand at 37-32, in second place in the National League East, has been the pitching of Santana and fellow starter R.A. Dickey.
Dickey has been the best pitcher in baseball, 11-1 with a 2.00 ERA, while Santana -- lacking much in the way of run support -- improved to 5-3 with a 3.00 ERA.
Thanks primarily to the work of these two men, the Mets have now shut out the Orioles for 18 consecutive innings at Citi Field the past two days.
"I think R.A. is doing an incredible job, and it's good to see that. He's making history," Santana said. "I'm just trying to follow up and trying to do my job."
That's right, a two-time Cy Young Award winner is now playing second fiddle, trying to keep up with a journeyman knuckleballer pitching out of his mind.
Dickey has shown no signs of being derailed. In fact, he seems to look more dominant with every start.
Now, after a couple of hiccups, Santana looks right back on track, too.
"It was a big night, make no mistake," Collins said. "We're gonna see a lot of nights like tonight where you're gonna see some zeroes on the board when he's out there."
Zeroes are quickly becoming commonplace in Queens.