Frank Francisco's teammates certainly have been getting mileage out of the closer labeling the Yankees "chickens."
Aside from Mets players greeting Francisco's arrival by doing the "Chicken Dance," Justin Turner cranked up the music in the Mets clubhouse pregame, blasting any songs he could find with a chicken reference, including Young B's "Chicken Noodle Soup."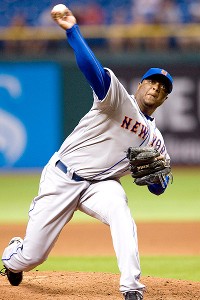 Jeff Griffith/US Presswire
Frank Francisco called the Yankees "chickens."
"Man, I don't like you anymore," Francisco semi-playfully told the reporter who initially quoted him comparing the Yankees to poultry. "No, it's not funny. You know it's not funny."
Regardless, Francisco explained his comment, saying the Yankees are known to be chronic complainers.
"I made a simple comment because, you know, they complain a lot -- for every call, for everything," Francisco said. "I thought it was funny. But I didn't expect to make a big deal. Whatever.
"Now I've got to apologize to everybody. I mean the whole Yankee team. ... No, I'm kidding.
"I said what I said, and I'm not sorry. That's what I think. I think they complain too much for everything. You guys haven't watched the games? You guys don't see it? Every game."
Said David Wright: "I have the utmost respect for them. I think their winning and their tradition speaks for itself. I think that Frankie -- and I haven't talked to him about it -- but he was probably just having some fun. Obviously it was blown way out of proportion. I'm sure Frankie's got a lot of respect for these guys. I know I do. I think it's that mutual respect."
Terry Collins was asked if Francisco might be wearing a bull's-eye and extra pressure if he's called upon.
"Might tonight," the manager said with a laugh. "I know one thing: When I saw the front page, I said, 'Well, I hope he gets his chance, because it means we'll have the lead and it'll be late in the game.' I'll take my chances with that."