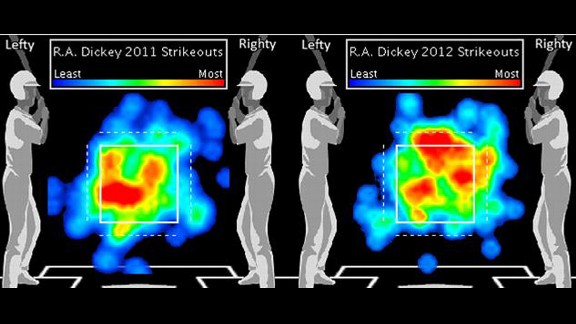 ESPN Stats & Info
R.A. Dickey is getting a lot more strikeouts in the upper third of the zone this year.

On Friday we took a look at R.A. Dickey's historic month with an eye on tonight's matchup against the Yankees on Sunday Night Baseball (8 ET, ESPN).
To get you ready for the game, let's dig deeper into the numbers to find out how Dickey has been able to dominate hitters this year despite relying on a single pitch – the knuckleball – more than 85 percent of the time.
BRINGING THE HEAT
There is limited pitch information about knuckleballers because there have been so few in the majors in recent years. Dickey's average of 77 MPH is significantly faster than the most prominent modern knuckleballer, Tim Wakefield, who threw his knuckler at 66 MPH.
The secret to his recent success appears to be his ability to increase the speed when he gets ahead of batters. Dickey's knuckleball averages 78.4 MPH with two strikes, and 76.5 MPH in all other counts.
R.A. Dickey
By Knuckleball Pitch Speed
When he dials the speed up to 78 MPH or above, his knuckleball has been nearly unhittable.
Opponents are batting just .111 in at-bats ending in a knuckleball at 78 MPH or faster and have struck out in 40 percent of their plate appearances; at lower speeds they are hitting .283 and slugging .504 against the pitch.
Dickey's ability to throw the hard knuckleball has allowed him to finish off hitters at an incredibly efficient rate during his historic month. Opponents are a ridiculous 2-for-79 (.025) with 52 strikeouts in two-strike counts over his last six starts (the MLB average with two strikes is .180).
CLIMBING THE LADDER
Dickey's transformation into one of the best strikeout and swing-and-miss pitchers in the majors is perhaps the most surprising part of Dickey's dominant season.
Prior to this season, he averaged fewer than six strikeouts per nine innings and generated misses on less than one of every five swings. This season, he's averaging better than a strikeout per inning and opponents have missed on nearly three out of every 10 swings.
R.A. Dickey Knuckleball
In Upper-Third of Zone
The key to his increase in punchouts appears to be his ability to locate the knuckleball in the upper-third of the zone and above.
Forty-four of his 96 strikeouts (46 percent) with the knuckleball this year have come on a pitch located in the upper third of the zone or higher; last year, his knuckleball strikeouts were nearly evenly distributed by vertical location (39 in upper-third, 35 in middle-third, 41 in lower-third).
ONE PITCH WONDER
Dickey is not the only pitcher this year to rely on a single pitch. There are five other starters this season that have thrown one pitch more than 70 percent of the time: Wade Miley (fastball), Joe Saunders (fastball), Bartolo Colon (fastball), Justin Masterson (sinker), and Lucas Harrell (fastball).
But Dickey's knuckleball is far more effective than the other pitchers who similarly rely on a single pitch. Opponents are hitting .177 in at-bats ending in a Dickey knuckler; the best opponent batting average among the five pitchers mentioned above is .257 against Masterson's sinker.