The knuckleball had propelled R.A. Dickey to a stretch of dominant pitching that ranks up there with any other collection of innings thrown by a Mets starter in their 50-year history.
Sunday, that knuckleball -- so lethal as he accumulated the franchise's second-longest streak without allowing an earned run -- was nowhere to be found.
Dickey's stretch of 44 2/3 innings without allowing an earned run came to an end in front of a national audience as the Yankees roughed him up for five runs in six innings in their 6-5 win. Dickey received a no-decision for his effort.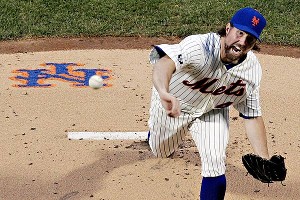 AP Photo/Peter Morgan
R.A. Dickey allowed five runs, five hits and three walks in six innings.
He fell 4 1/3 innings short of matching the franchise record for innings without allowing an earned run, set by Dwight Gooden in 1985.
"I didn't have a great knuckleball," Dickey said. "It was coming out kind of wobbly a little bit and I kept searching for it through the innings."
Dickey entered the game fresh off becoming the first pitcher in MLB history to throw back-to-back complete games while striking out 10 or more hitters and allowing one or fewer hits. He had won his last six starts as well.
The third inning hurt Dickey the most. He walked two hitters to load the bases, and Mark Teixeira proceeded to drive in the first earned run against Dickey since May 22 with a sacrifice fly. Four pitches later, Nick Swisher crushed a three-run shot to center to give the Yankees a 4-0 lead.
The Yankees tacked on a run on a Teixeira groundout in the fifth.
The five earned runs were the most Dickey has surrendered since getting bludgeoned for eight against Atlanta on May 18. In his last six starts he had only given up a combined two runs, only one earned. During that stretch, he set the team's record for consecutive scoreless innings with 32 2/3 scoreless frames.
"I gave up five hits. I don't feel like I got beat around the park," Dickey said. "I gave up one big swing, and I didn't have a great knuckleball tonight, but I fought my butt off with it as hard as I could and tried to do the things I could to keep us in the game."
Now, after being brought back to earth for at least one night, he's out to try and see if he can get on another historic roll and get back in that groove.
"It was fun to be a part of history. When you can say you were a part of the pedigree of people that came through this game, some big names, it certainly makes for an enjoyable ride," Dickey said. "My hope was to continue it tonight and my focus was tonight, but it was nice. I'm hoping to start another one "