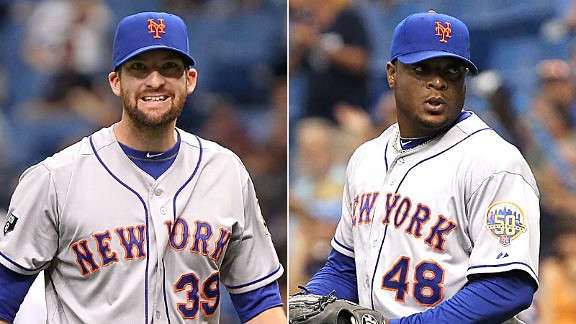 US Presswire
Bobby Parnell is the interim closer minus Frank Francisco.CHICAGO -- Bobby Parnell will be the exclusive closer while Frank Francisco mends a strained left oblique on the disabled list, Terry Collins said before Monday's series opener against the Cubs.
Parnell auditioned for the closing role late last season, after Jason Isringhausen notched his 300th save. But Parnell struggled -- converting only three of seven chances in September -- and the Mets committed two years, $12 million to Francisco, plus an additional $3.5 million for one year to Jon Rauch.
Collins said he purposely shielded Parnell from too much responsibility early this season so the right-hander could regain his confidence. Now, the timing is right to go with Parnell, the manager added.
#39 RP
New York Mets
2012 STATS
In 36 appearances this season, Parnell is 1-1 with a 3.19 ERA and 1.323 WHIP.
Parnell technically has two blown saves this season, but Collins noted the one charged June 5 at Washington particularly was misleading because Jordany Valdespin had two errors at shortstop in the 10th with Parnell pitching. Ike Davis also fumbled a grounder and failed to initiate a double play and Parnell uncorked a wild pitch during that debacle of an inning.
"I think his confidence is much better," Collins said. "I think his experience doing it already is going to help him this year. So he's going to get that chance.
"I wanted him to have that confidence. That's why throughout this whole first half, when we mixed and matched who was going to pitch where, Bobby was absolutely dominant in that seventh-inning spot, where he was coming in and mowing guys down. So his confidence was high. And then there were a couple of the games in Washington where we didn't catch the ball. And guys were all over the bases. And the next thing you know, he's got a blown save next to his name that perhaps shouldn't be there because we didn't play very good defense. All of a sudden I think sometimes your confidence can wane a little bit -- 'look, I'm not getting the job done.' So we built him back up. We just think he's the best option right now."
Parnell believes he is a better pitcher this season as opposed to previous years because he has taken a little off his fastball in order to better control it, with an emphasis on locating down in the strike zone. His fastball averages 95.3 mph this season as opposed to 97.2 mph in 2011.
"I've just got to keep doing what I've been doing. I've had good success with that," Parnell said. "I try not to overthrow. I'm just trying to throw strikes in the bottom of the zone and flip a couple of curveballs up there and get them off balance."
Tim Byrdak, listening in on Parnell's comments, then did a fake Southern accent and pretended to be Parnell.
"Hell, I can tell you right now I can throw 99 all day long if I want to. But I just don't feel like it, all right?" Byrdak said in the drawl.