WHAT IT MEANS: Dillon Gee's career-high streak of seven straight quality starts was snapped and the Mets lost a second straight game to the lowly Cubs, this time 5-3 on Tuesday night at Wrigley Field.
Gee surrendered the tiebreaking run on an RBI hit to center field in the fourth inning by first-base prospect Anthony Rizzo, who was making his Cubs debut. The Cubs added an eighth-inning run in part because of a throwing error by Ruben Tejada.
Gee's final line: 5 IP, 9 H, 4 R, 4 ER, 2 BB, 6 K. He threw 93 pitches (63 strikes).
TOSSED: Ike Davis was ejected in the bottom of the eighth after his glove brushed first-base ump Manny Gonzalez's left arm while arguing a safe call on a pickoff attempt at first base. (Davis appeared to be correct in asserting the pickoff attempt was successful.)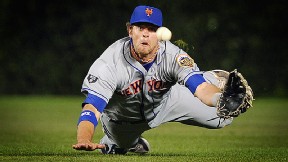 Jim Prisching/Associated Press
Kirk Nieuwenhuis makes a diving fourth-inning attempt.
SNAPPED: David Wright's hitting streak ended at 15 games with an 0-for-3 night. Wright did produce a fourth-inning sacrifice fly that had evened the score at 3. He also walked to lead off the ninth. Wright had the longest active streak in the majors.
SNAFUS: The Mets had several borderline gaffes that will not show up in a box score.
In a third inning in which the Mets ultimately failed to produce a run, third base coach Tim Teufel waved home Lucas Duda from first base on Davis' double into the right-field corner. Duda stopped at third base, and the Mets ended up leaving the bases loaded when Daniel Murphy grounded out to first base. (Duda has failed to score on all five chances from first base this season when an ensuing double has been hit, according to ESPN Stats & Information's Mark Simon.)
Murphy also left Scott Hairston at second base in the seventh with a groundout to first base. Tejada stranded pinch runner Andres Torres at third base in the eighth with a groundout to first base as well.
It was not pretty in the field, either.
Tejada initially was charged with an error at shortstop on a backhand play on a grounder from Rizzo in the first inning. After the Wrigley Field crowd booed, though, the official scorer changed the ruling to Rizzo's first-ever Cubs hit.
Meanwhile, Rizzo's go-ahead RBI in the fourth officially was a double, although Kirk Nieuwenhuis flubbed the ball in center field, which is what allowed Rizzo to hustle to second base.
TWO-OUT KNACK: The Mets entered the night with an MLB-best 161 two-out runs. They added to that total Tuesday night.
The Mets grabbed a 2-0 lead in the second against right-hander Randy Wells on four straight two-out hits, including Josh Thole's RBI single, followed by a broken-bat RBI single into shallow center by Gee.
Thole had only one RBI in 65 at-bats in June before driving in the run, ESPN Stats & Information noted.
WHAT'S NEXT: Jon Niese (5-3, 3.75 ERA) opposes right-hander Jeff Samardzija (5-6, 4.34) at 2:20 p.m. ET Wednesday as the Mets try to salvage the series finale. The Mets have not been swept in a three-game series at Wrigley Field since April 23-25, 2004, when they mustered only two runs amid dominant performances by Greg Maddux, Kerry Wood and Matt Clement.