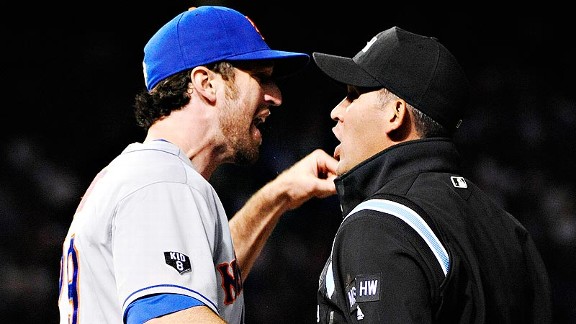 David Banks/US Presswire
Ike Davis expresses his displeasure to first-base umpire Manny Gonzalez after an eighth-inning safe call on a pickoff attempt.CHICAGO -- Ike Davis faces a fine and potentially even a modest suspension, maybe one game, for touching first-base ump Manny Gonzalez with his glove while arguing a safe call at first base on a pickoff attempt.
Davis insisted the contact was accidental -- his glove touched Gonzalez's left arm -- as the first baseman swung his arms in disbelief at the safe call.
Davis acknowledged his initial swipe tag missed runner Steve Clevenger diving back into first base. But Davis noted that Gonzalez made a safe call at that point without Clevenger ever touching the bag. Davis' second tag attempt, replays suggested, should have resulted in an out call.
A baseball executive watching the game told ESPNNewYork.com that he expected Davis would be fined, but no more than $1,000. He added that a one-game suspension is possible, but perhaps not a likelihood because the contact appeared accidental and the umpire's call appeared to be in error. Gonzalez, 42, is a minor league umpire assigned to work major league games.
Davis said he fully expected to get the monetary penalty, and was prepared to write a check to charity.
"I think ... my glove touched him, so that's probably why he rung me," Davis said. "But I didn't say anything too revolting. I obviously didn't mean to touch him. I was just using my hands as a gesture. But I didn't say anything crazy. ... He said I missed him on the tag, and I said, B.S., in a different form. I said, 'He was out,' with a cuss word in between, but that's about it."
Said Terry Collins: "Ike touched (Gonzalez) with the glove. He's automatically ejected. I'm not going to get into it. They aren't responsible for leaving 10 guys on base. It's not (the umpire's) fault that we didn't hit with stinkin' guys sitting all over the bases tonight. That's the way it goes."