CHICAGO -- Ike Davis is off the interstate.
Davis' 3-for-5, four-RBI day that included a three-run homer in the Mets' 17-1 win against the Cubs lifted his batting average to .201.
Davis portrayed himself as unaware postgame. And perhaps that was the case, since he finally crossed the plateau for the first time this season in his final at-bat, and since Wrigley Field does not have the type of scoreboards common in newer ballparks, which constantly relay each player's average.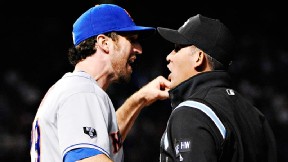 David Banks/US Presswire
Ike Davis tried to make amends with Manny Gonzalez on Wednesday, a day after he jawed with the ump at first base.
"I'm there?" Davis excitedly said. "I didn't know."
Like Daniel Murphy when asked about snapping his homer drought, Davis went on to downplay the achievement. He even suggested he will continue to tell himself he is hitting .150 as a motivational tool.
"In my head I am," Davis said about lopping 51 points off his average.
Added Davis: "Obviously, I don't want to hit .200 for the year. But it's a start in the right direction from .1-whatever-I-was-at for a long time. So, hopefully, I can keep building and keep getting my average up."
Davis has been showing signs for a few weeks of breaking out of a season-long rut. And despite the paltry average, he does have 10 homers and 41 RBIs -- neither figure too shabby.
"I've always had decent home runs and RBIs this year somehow," Davis said. "I don't know how."
Meanwhile, Davis said he apologized to umpire Manny Gonzalez, who happened to be behind the plate Wednesday afternoon. The previous night, Davis' glove touched Gonzalez as the first baseman disputed a safe call on a pickoff attempt. Davis was ejected and faces a fine. A suspension, although not likely, is possible too.
"I just told him I'm sorry for touching him with my glove, and I didn't mean to touch him," Davis said. "And he said, 'No worries. I know you weren't doing it maliciously.' It was good. He didn't seem like he was too upset at me. And, obviously, I had forgotten about it."
Asked if he had heard yet from discipline czar Joe Torre, Davis said he expected it to take at least another day for a resolution.
"Not yet," Davis said. "I'll keep you posted."