LOS ANGELES -- R.A. Dickey likely will get only one more start before the All-Star break, Terry Collins said. But the manager was not as firm in proclaiming that after Dickey tossed eight scoreless innings in the Mets' 9-0 win against the Dodgers on Friday night.
Collins said team officials have discussed shutting down Johan Santana for the first half after Saturday's start against the Dodgers, in order to ensure he's fresh for the second half as the southpaw returns from shoulder surgery that cost him the 2011 season. The manager added, though, that Santana was opposed to such a plan and that it was unlikely to occur.
So instead of Dickey going Wednesday and then the following Sunday on short rest to close the first half -- which also would compromise his All-Star availability -- the knuckleballer is expected to get only one more first-half start, on Thursday against the Phillies at Citi Field.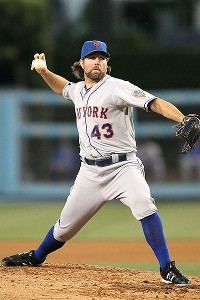 Victor Decolongon/Getty Images
R.A. Dickey tossed eight scoreless innings Friday to improve to 12-1.
Dickey allowed only three hits and one walk, and hit one batter in improving to 12-1 on Friday at Dodger Stadium.
As for potentially starting the All-Star Game, Dickey said: "Oh man, just getting to the All-Star Game would be fantastic. Obviously it would be a tremendous honor.
"And, I've said it before: I think it will give a real legitimacy to the knuckleball. A lot of people think the knuckleball is a gimmick. I'd like to try to prove that it's much more than that. Nobody likes to be demeaned. And so I think there are some camps out there that would try to demean the pitch in an effort to try to explain it -- as a gimmick or as a circus-sideshow pitch. I have felt that from time to time from people. And that's OK. That's their opinion.
"But you're asking me what it would be like to start the All-Star Game. And, I'm telling you, I think it would bring a real legitimacy to it."
The All-Star teams will be announced Sunday, and Dickey logically will join David Wright, plus Collins as a National League coach, on July 10 in Kansas City. NL manager Tony La Russa's actual lineup, including the starting pitcher, will be announced the day before the game.
"I don't know. That's going to be Tony's call," Collins said about Dickey as the NL starter. "There's going to be a lot of choices, but he's certainly going to be in the mix."
Before Friday's game, Collins had suggested Dickey might have been distracted leading up to his previous start, against the Yankees, by all the attention the knuckleballer was getting. Dickey disputed that analysis.
"I've had no less obligations between this start than I did last," Dickey said. "That's insignificant as far as I'm concerned."
Meanwhile, following baseball protocol, it seemed Dickey pretty clearly hit Dee Gordon with a pitch to answer Ruben Tejada getting drilled by the Dodgers during a 4-for-5 night by the shortstop. After all, Dickey threw only seven or eight fastballs by his count among his 116 pitches (of which 81 were strikes). So it just so happened that one that got away was a fastball that hit Gordon?
"I knew that question was probably going to come, and I'm not going to take the bait," Dickey said. "I'm going to tell you that I tried to throw a fastball in and it slipped out of my hand a little bit."