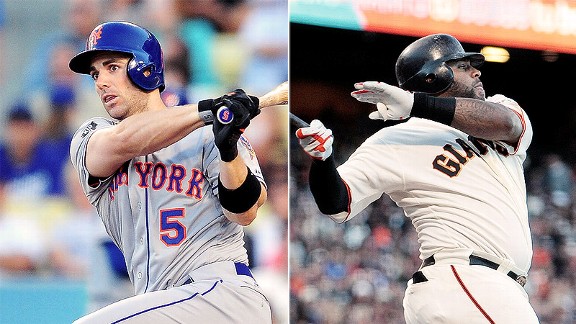 US Presswire
Pablo Sandoval overtook David Wright in the final fan balloting as the NL starting third baseman.
LOS ANGELES -- San Francisco Giants fans pushed Pablo Sandoval over David Wright in the final few days of balloting to make Sandoval the NL starter at third base. Wright nonetheless will join R.A. Dickey on the All-Star team.
Sandoval amassed 5,743,542 votes, to Wright's 4,133,380. He closed a nearly 465,000-vote gap in the final week. Wright's sixth selection nonetheless is fourth-most in franchise history, trailing only Tom Seaver (nine times as Met) and Mike Piazza and Darryl Strawberry (seven apiece).
The starting pitcher will not be named by NL manager Tony La Russa until the day before the game. Assuming Dickey is named the starting pitcher, he will be paired with Giants catcher Buster Posey, who won the fan balloting.
WRIGHT vs. SANDOVAL
Here's a head-to-head look at David Wright's 2012 statistics compared with Pablo Sandoval's.
"I guess I might need to get in touch with a few guys who have caught a knuckleballer before and see if they have any tips," Posey told The San Francisco Chronicle. "... If that were to happen, I've never caught a knuckleballer before. ... I've watched Josh Thole catch him when he pitches. He kind of sits there with his mitt just loose. He doesn't sit there with a target, which I guess makes sense because I'm sure as a pitcher, you don't necessarily know where it's going to end up every time."
Wright ranks second in the NL in batting at .355, trailing only Philadelphia's Carlos Ruiz (.358). Wright's average is the second-highest in franchise history by a Met entering July, trailing only Piazza's .364 in 2000.
However, Giants fans were "spirited" in voting for their players. Brandon Belt finished second in fan voting at first, Brandon Crawford second at shortstop, Freddy Sanchez fourth at second base and Angel Pagan fifth in among outfielders.
Dickey (12-1) is a first-time All-Star. According to the Elias Sports Bureau, Dickey is the third pitcher in franchise history to reach 12 wins before July 1, joining Seaver (1969 and '70) and Bobby Jones (1997).
Before Dickey's June production, the last pitcher to go 5-0 with 50 strikeouts and a sub-1.00 ERA in a calendar month? That would be now-teammate Johan Santana, in September 2004 with the Minnesota Twins, according to ESPN Stats & Info.