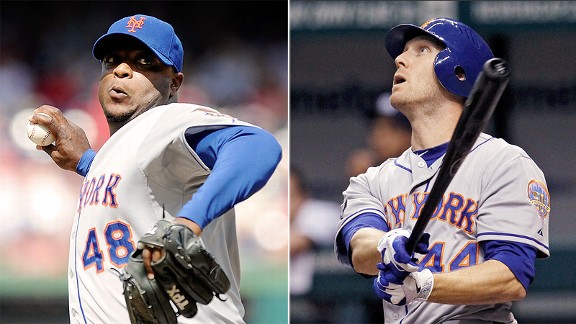 Getty Images/Associated Press
Frank Francisco will begin to toss a baseball, while Jason Bay runs and hits off a tee for Mets medical staff Monday.
LOS ANGELES -- Jason Bay, who suffered a concussion on June 15, is due to hit off a tee as well as run for Mets medical staffers on Monday in New York. After that activity, it will be determined whether Bay should head to Port St. Lucie, Fla., to continue ramping up activity at the team's complex, Terry Collins said.
Meanwhile, the manager added, closer Frank Francisco will begin playing catch Monday, likely on flat ground at distances up to 60 feet.
Francisco landed on the disabled list with a left oblique strain after appearing in the Subway Series opener at Citi Field. He is eligible to be activated next Sunday. Since that is the first-half finale, though, clearly the July 13 resumption of play after the All-Star break seems a more likely target date for Francisco's return from the DL.