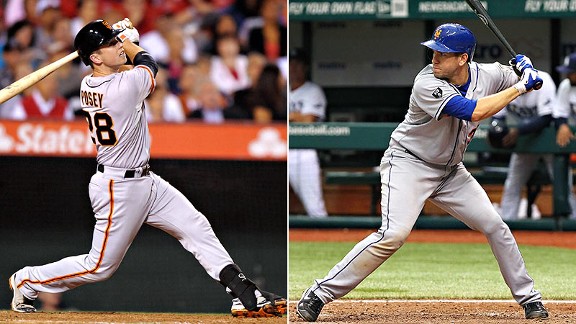 US Presswire
Buster Posey can expect a call from Josh Thole, if Posey does not reach out first.
LOS ANGELES -- Josh Thole found some humor in potentially imparting catching advice to San Francisco's Buster Posey.
Posey, in fact, acknowledged he already has watched Thole's technique, at least with respect to catching knuckleballer R.A. Dickey.
"He's the only guy during the season that watches me catch," quipped Thole, a work-in-progress behind the plate.
Posey is the NL's starting All-Star catcher, and very likely will be paired with Dickey in the July 10 game in Kansas City. Thole said he may reach out to Posey in the next few days if he does not hear from San Francisco's catcher first.
The first three pitches Thole ever tried to catch from Dickey in spring training he "whiffed."
Early on, Thole sought advice from Doug Mirabelli, who caught Tim Wakefield in Boston. That proved invaluable, so Thole would be happy to share the wisdom with Posey.
Thole added, though, that Dickey seems infinitely tougher to catch than the fellow knuckleballer Wakefield, because Dickey throws the pitch so much harder.
"I've always said that when it's 65 mph, you can keep it in the vicinity," Thole said. "When it's 80 mph, you're running to the backstop."
Thole, using more colorful language, said it remains nerve-wracking when a baserunner reaches third base because of the potential for a passed ball.
"Still, to this day, after three years," he said.
As for the specific advice from Mirabelli that he would happily pass along, Thole said: "Turn myself toward second base a little bit. Relax my hand. … It's different. My suggestion would be to play catch with him, I guess."
Said Terry Collins about Posey, and fellow All-Star catcher Yadier Molina: "They're really good. You're not an All-Star catcher without having the ability to catch R.A. The key is to go back there and warm him up so you get a sense of what it's going to do, not just have the game start and try to have a feel for it. I just hope R.A. gets a chance to pitch in the game."
Dickey received a call from Sandy Alderson on Sunday morning with the official news of the knuckleballer's All-Star selection.
"I wasn't incredibly surprised, but I certainly was thankful," Dickey said.
In player balloting among NL starting pitchers, Dickey had the most votes with 342, followed by Matt Cain's 234, Stephen Strasburg's 233 and Gio Gonzalez's 212.
NL manager Tony La Russa will not announce until next week whether Dickey is the game's starter.
"Nobody deserves more than him to have that ball to start that game," David Wright said. "I'm really happy for him. And, hopefully, his whole family and half of Nashville end up going to Kansas City with him.
"I would say that this would be a great ending to a terrific story, but I think this is just the beginning. I think the Dickey book, volume two, should be out here soon, I would guess. And this could lead into it. It's a tremendous story and well-deserved. Nothing has been handed to him. He's earned and scratched and clawed to where he is now."
Said Dickey: "There's a lot of people worthy of starting the game. And whether I pitch an inning, start the game or pitch the whole thing, it doesn't matter personally to me. I certainly would be honored if I was given the ball the first inning."
As for working with Posey, or whomever, Dickey added: "It's going to be tough to try to predict what's going to happen, but I know that these guys are great athletes. I've seen Buster catch. I'm going to be taking a big knuckleball mitt with me. We'll at least have that.
"There's a first time for everybody. You'll know pretty quickly if they're going to struggle or not. And the more days that go by, the more familiar they become with you and the better they get at it. The first time Josh did it, he took five or six off the mask. And then he got it real quickly. So I don't know how it's going to work out, but I certainly know the people are capable."