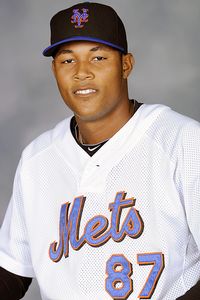 Courtesy of New York Mets
Jeurys Familia
LOS ANGELES -- Highly regarded pitching prospect Jeurys Familia was roughed up again Sunday with Triple-A Buffalo. And, afterward, Bisons manager Wally Backman left open the possibility of demoting Familia to Double-A Binghamton.
Familia, 22, is 5-5 with a 5.28 ERA in 17 Triple-A starts. In 75 innings, he has allowed 81 hits and 52 walks while striking out 67.
Asked by Buffalo reporters about potentially sending Familia to Double-A, Backman said: "I look at it as trying to work it out here, because then I feel like I failed him to some extent. But is that a possibility? It probably is a possibility. You can only take so many lumps before a guy loses total focus, so that's something that could be discussed. But I look at it as failure upon myself and my coaches not being able to get somebody right, especially when we know what kind of stuff he has."
Many scouts project Familia as a major league reliever.
He allowed seven runs (six earned) in 3 1/3 innings Sunday against Durham.
"It's almost like he was pitching away from contact for a while," Backman said. "With stuff like that, you've got to attack the strike zone."