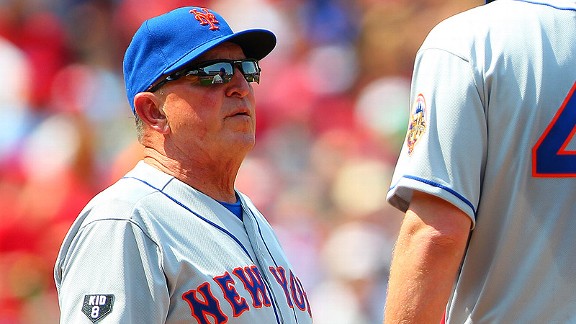 Rick Schultz/Getty Images
Dan Warthen had passed the four-year anniversary of his ascension to Mets pitching coach.
LOS ANGELES -- Back on June 17, 2008, during that 3 a.m. ET firing of Willie Randolph, Dan Warthen was elevated from Triple-A to succeed Rick Peterson as pitching coach.
"I'm the hardwood floor that's getting ripped out," Peterson metaphorically said that morning. "And they're going to bring in the Tuscany tile. And it will be great."
Four years later, that tile is a little scuffed. But it's still around.
With pitchers and ownership in his corner, Warthen survived the transition from Omar Minaya and Jerry Manuel to Sandy Alderson and Terry Collins.
In a tumultuous profession, Warthen will pass Peterson's length of tenure as Mets pitching coach -- four seasons, 69 games -- assuming he remains in place for the duration of the 2012 season. Warthen currently is presiding over a pitching staff that ranks sixth in the league in ERA at 3.86, despite bullpen personnel that have not exactly inspired confidence.
"We had a bad year a couple of years ago, and I certainly would not have blamed the organization for saying, 'Dan, we're going to part ways,'" Warthen reflected Sunday. "But I think Jeff [Wilpon], Omar and Fred [Wilpon] all supported me.
"I think I've gotten better. I think I've gotten better with all parts of it, including dealing with you [media] guys, watching things that I say. The good part is I have these guys for three or four years now, [Jon] Niese and [Dillon] Gee -- and [R.A.] Dickey is now the third year. And it becomes easier. We have better communication. We start to understand each other. We know when to say something, when not to say something. By us all maturing together, I've become a better coach."
Warthen certainly had a few statements early on that took on a life of their own.
He called John Maine a "habitual liar" when Maine was pulled from what turned out to be the right-hander's final start as a Met with shoulder woes. (Warthen actually meant Maine was in denial about his health because he was a warrior who wanted to gut through discomfort.) Warthen once also candidly noted Oliver Perez came back from the World Baseball Classic out of shape, although he meant it as the southpaw's arm was not prepared for a season because he had not received the proper training with Team Mexico. Warthen even probably was too candid in saying before it was fashionable that he projected Jenrry Mejia as a reliever, because Mejia's max-effort delivery made him susceptible to injury.
"Oh, the John Maine thing," Warthen said. "And it was a backhanded compliment, realistically, because all players are that way. They want to play. They want to go out there and they want to compete. And Ollie, when he came back with Mexico -- he had not pitched. He got out of pitching shape."
Peterson was meticulous in how to attack opposing hitters during his Mets tenure, knowing what they hit in each section of the strike zone on any given pitch and tailoring game plans accordingly. The Mets remain sabermertically inclined, although Warthen is more likely to have a pitcher's strength dictate the game plan than a hitter's weakness.
"I try to do it per pitcher -- what Dillon can get this particular hitter out with," Warthen said.
Bobby Parnell particularly appreciates the dry-witted Warthen's candor.
"He's very honest with you," Parnell said. "He's very outgoing. He's in your corner, I feel like. He's always going to tell you what you're doing wrong and how to improve on it. If you miss a spot, he's going to tell you. If you ask him, 'Hey, what did you see there,' he's going to tell you. He's not going to beat around the bush."
Said Collins: "I've known Dan for years. He was the bullpen coach [in L.A. in 2006 and 2007], when I was still with the Dodgers. I knew him before then. I played against him. When I got the job, there were some pitching-coach candidates we put on paper. When we discussed them, one of the things that came out about Dan was how much the pitchers enjoyed him -- how much they liked what he teaches, and how he went about it. A lot of them credit him with their success. One was Mike Pelfrey. R.A. Dickey talked about him.
"I'm going to tell you something: In our game today, there's not a lot of coaches who have the support of a lot of players like that. And he had a lot of support. So I said, 'He's our guy.'"