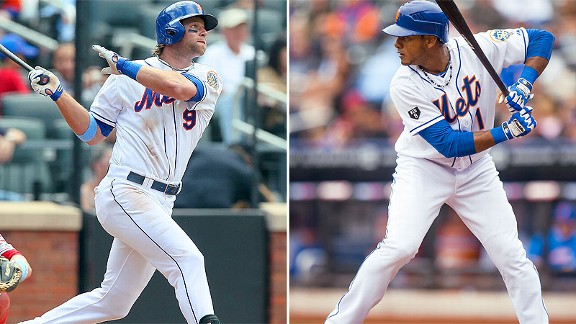 Getty Images
Kirk Nieuwenhuis will stay active, but Jordany Valdespin is promoted anyway.
Kirk Nieuwenhuis avoided landing on the disabled list before Wednesday's game despite a right hand injury, but Jordany Valdespin officially was promoted anyway.
Valdespin took the roster spot of left-hander Justin Hampson, who was designated for assignment. The Mets apparently will go with six relievers, and only one lefty, in the bullpen for the remainder of the first half.
Nieuwenhuis had been scratched from Tuesday's lineup after pain shot up his right hand when he took a swing behind the cage after completing a round of batting practice. The issue is located on the back of the hand, on the pinkie side. He reported improvement Wednesday morning.
"Just swinging -- not even contact," Nieuwenhuis said. "... There was some pain in there and I couldn't even take my normal swings."
Nieuwenhuis underwent an MRI on Tuesday night, but indicated he had not yet received the result. He believed the issue was nerve-related. He had surgery to remove a broken hamate bone at the base of that hand after the 2009 season, but did not know if there was a link. He doubted he had another broken bone.