Jon Niese allowed four first-inning runs and ultimately surrendered seven runs in seven innings as the Mets lost to the Cubs, 7-0, at Citi Field on Sunday. The Mets entered the All-Star break with a 46-40 record, exceeding many expectations, but off a series loss to Chicago.
If the playoffs started today, the National League division winners would be Washington (49-34), Pittsburgh (48-37) and Los Angeles (47-40).
Atlanta (46-39) and Cincinnati (47-38) would claim the wild cards, with the Mets as well as St. Louis and San Francisco -- with identical 46-40 records -- a half-game back.
The Mets reassemble for a late-afternoon workout Thursday at Turner Field in Atlanta. They then begin another critical stretch Friday against the Braves. That series will be followed by one in D.C. The Amazin's then return home to face Los Angeles and again the Nats.
As for going 2-4 this season against the Cubs, who are now a half-game better than Houston for the worst record in the majors, Terry Collins said: "They played us really well. Maybe it's one of those, it's a bad matchup for us." The Mets also were swept in Houston a month into the season.
Monday's news reports:
#55 C
Colorado Rockies
2012 STATS
GM

27

HR4

RBI15

R8

OBP.260

AVG

.215
• The Mets and Rockies are discussing a trade involving righty-hitting catcher Ramon Hernandez. The deal could be expanded to include left-handed reliever Matt Reynolds, a baseball source told ESPNNewYork.com. The source added that players who interest the Rockies include Justin Turner as well as prospects Matt den Dekker, Jacob deGrom, Josh Edgin, Chase Huchingson, Jack Leathersich, Domingo Tapia and Wilfredo Tovar. While there was optimism a deal could ultimately be consummated, there was no indication the Mets would agree to include any of those Rockies targets. The Post's Joel Sherman also links the Mets to catchers Kelly Shoppach (Boston) and Miguel Olivo (Boston).
"Sandy [Alderson] and I talk every single day," Collins said, speaking generally about the trade deadline. "He's certainly aware of what our needs are. We talk about it. We know where our holes are. We know how to fill them. But the asking price to fill them sometimes isn't going to be paid. We're just not going to sacrifice the future for a piece for a month. And I've been there before. Believe me. And it's one of the things I've learned -- look, I can't worry about what I don't have. I know what we need. Everybody on any team that's competing right now needs a piece to get better. But I also know it can kill you down the road to give up some of those things that you have to.
"In my past places, some of the asking prices, when you go to the players and go, 'Yeah, we could have gotten so-and-so, but it would have cost that guy,' they all say, 'Well, you can't move him.' So we'll just have to see what happens."
Writes Sherman about Hernandez in the Post:
It is the kind of incremental improvement they want to make to enhance their postseason chances. One Mets official said, "We are not talking about acquiring Gary Carter in 1985 here." Translation: It is still a few weeks from the deadline, when teams can ask for big returns, but the Mets will wait for more realistic requests or else not make the purchase.
Alderson, speaking on SNY during Sunday's game, suggested he had been burned in the past by acquiring a catcher midseason. That was the case, he suggested, because of the acquisition's unfamiliarity with the new pitching staff and not providing enough offensive improvement over the incumbent to justify the swap in retrospect. In the current case, Mike Nickeas is hitting .172 with a homer and 13 RBIs in 93 at-bats.
Read more in the Star-Ledger.
ACE STUDY
The selling points for four different potential NL All-Star starting pitchers, by ESPN Stats & Information.
• R.A. Dickey, David Wright and Terry Collins departed for the All-Star Game in Kansas City via chartered plane after Sunday's loss. Dickey made one last pitch for the starting nod on the mound for the NL, saying it would be easier for starting catcher Buster Posey if the knuckleballer opened the game, since that would afford the duo extra time to work together during warmups as well. NL skipper Tony La Russa is expected to name his starting pitcher at a 1:30 p.m. ET press conference Monday. Meanwhile, Wright is excited to return to the All-Star Game after a one-year absence. He was not selected for the 2011 game, snapping a six-year streak, because he was sidelined with a stress fracture in his lower back. Read more in Newsday.
• Columnist Tara Sullivan in the Record salutes Wright's first-half performance, writing:
As he stood postgame at his locker trying to remember everything he needed to pack for his upcoming sixth All-Star Game appearance and the six-game road trip that follows, Wright talked about the consistency his team needs to find in the season's second half. What he never would say is that everyone needs to find it but him. Wright has been the eye in the center of this crazy storm, the steward, the leader, the beacon of consistency amid all that swirls around him. Like a straight line through a swirling mass, he has kept this team on course. "Absolutely carried us in the first half," manager Terry Collins said.
• Jon Rauch had a rough beginning to the All-Star break. The reliever revealed via Twitter he was involved in an automobile accident after Sunday's game. He tweeted:
got sideswiped on the way home.....awesome. guy tried to merge into my jeep. Jeep 1 - Benz S-class 0. took 2.5 hrs for police to show up. Entire side of the benz destroyed by the 37" tires and Ace Eng. sliders. Couple dents in the rear door from his mirror. The Jeep is a tank. no injuries. glancing blow to both cars. He's lucky i didn't drive over the top of his hood!! to be honest, felt like i hit a pothole. heard the accident more than i felt it.
Rauch then tweeted a photo of his Jeep pre-accident, which you can view here.
• It turns out Johan Santana's right ankle is not as healed as desired. After twisting it then getting stepped on Friday by Reed Johnson while covering first base, Santana nonetheless was scheduled to start Friday's second-half opener in Atlanta. Now, Dillon Gee will take that start, followed by Dickey in Game 2. Collins said either Santana or Niese will start Sunday's finale at Turner Field, with the other opening the following series at Washington. Chris Young remains the fifth starter out of the break. "He's fine. Don't misread anything," Collins insisted about Santana. "We just want to make sure that he's 100 percent when we come out of the break." Read more in the Post, Record and Daily News.
• Read Sunday's game recaps in the Times, Post, Record, Newsday, Star-Ledger and Daily News.
• Alderson appeared for an inning and a half on SNY. There were no revelations, but the GM did suggest Zack Wheeler would make roughly two more starts for Double-A Binghamton before being promoted to Triple-A Buffalo. And Alderson, without naming Josh Edgin, implied the lefty reliever would be imminently promoted after the All-Star break so the Mets can gauge what they have before the trade deadline. Alderson spoke about multiple relievers coming up, so perhaps Jenrry Mejia is soon to join the Mets as well. "I think you'll see a couple of new faces between now and the end of July," Alderson said on the telecast, referring to promotions. "And we'll take a look at them and see what we think, and at the same time be evaluating what else is available to us."
• Wheeler and fellow Binghamton Met Wilmer Flores participated in Sunday's Futures Game in K.C. Wheeler retired both batters he faced. Flores started at third base for the World team and went 0-for-2. "Amazing," Flores told David Lennon in Newsday about Wheeler. "He's one of the best. He's going to make some money."
Wheeler's Double-A dominance had a brief interruption recently, when he allowed 12 runs (11 earned) on 13 2/3 innings over a pair of starts. But Wheeler got back on track in his most recent outing, which happened to come against the Double-A affiliate of his former organization, the San Francisco Giants. He limited Richmond to one run in 7 1/3 innings Thursday. A runner inherited by the bullpen scored for the only to be charged to him. "Sometimes you can get away with throwing hard and missing your spots," Wheeler told Lennon. "But in those games, I was missing my spots and they were hitting me. That reminded me of what would happen if I was in the big leagues. It was a good learning experience, so actually I'm glad it happened."
Read more on Wheeler and the Futures Game in the Times and Post.
• Ex-Met John Maine surrendered six runs in 4 2/3 innings, including damage on homers by den Dekker and Josh Satin, as Buffalo headed into its All-Star break on a four-game winning streak. Mejia was struck above the right ankle in that game and was pulled. Buffalo hosts the Triple-A All-Star Game on Wednesday. The home run derby, scheduled for today, includes Valentino Pascucci. Read Sunday's full minor league recap here.
• Collins believed Jason Bay (concussion) and Frank Francisco (oblique) both could appear in their first rehab game Wednesday, with Class A St. Lucie at Tampa. The expectation would be both could rejoin the Mets for the series at Washington that begins next Tuesday, after a team off-day. Meanwhile, Andres Torres, who has remained on the active roster despite back woes, hopes to be ready to reenter the lineup the day the Mets open second-half play.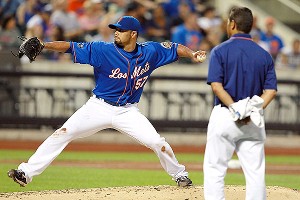 Mike Stobe/Getty Images
Trainer Ray Ramirez observed Johan Santana after the southpaw's ankle twisted, then was stepped on by Reed Johnson at first base in the fifth inning Friday. Two days later, the Mets disclosed Santana's first second-half start will be delayed.
• Francisco has ended up entangled in another Yankees-related controversy, although this time the closer did not call them "chickens" or anything else. Andrew Marchand writes at ESPNNewYork.com about a spat between Boston reliever Vicente Padilla and the Yankees' Mark Teixeira that managed to rope in Francisco. Writes Marchand:
Padilla and Teixeira have had a feud that dates back seven years. In his initial two at-bats against Padilla in 2005, Teixeira hit homers each time. Since, according to Teixeira, Padilla has been head-hunting. ... [Padilla] implied that Teixeira had issues with Padilla and former teammate Frank Francisco because they were Latin. "The problem is he talks about all the wrong things that others have done, but the things he's done -- against the Latinos [on the Texas Rangers] -- he doesn't open his mouth about," Padilla told the website (NESN.com). "He once threatened me and said he was going to hit me with a bat, and that's when we were playing on the same team."
• Jordany Valdespin made his first major league start in center field Sunday. "I guess it was towards the end of the first year I ever saw him, when you saw the athleticism, you almost said, 'You know what? This guy would make a pretty good center fielder,''' Collins said. "So there was always that thought to put him out there.'' Valdespin, a natural middle infielder, had made 15 appearances (14 starts) in the minors this season in center field. He also had four Grapefruit League appearances (two starts) at the position this year. Read more in the Star-Ledger.
• Wally Backman again criticized Reggie Jackson for comments critical of Gary Carter's Hall of Fame worthiness, this time in the Daily News.
• Marlins outfielder Logan Morrison tweeted he used to play for the Mets.
• Anthony Rieber provides a first-half recap in Newsday, as does Jared Diamond in the Journal. Mike Kerwick in the Record recommends to believe in the Mets.
• Michael Salfino in the Journal notes that if Ike Davis maintained his .203 average and his current RBI pace, he would have the worst average in baseball history among players who drove in 90-plus runs. It would top Dave Kingman's .204 average and 99 RBIs, which Kingman happened to post in 1982 as a Met.
TRIVIA: Who is the youngest Met ever to have a plate appearance in an All-Star Game?
Sunday's answer: Edgardo Alfonzo was the last Met to appear at second base in an All-Star Game. He went 0-for-2 at Turner Field on July 11, 2000 after replacing starter Jeff Kent.