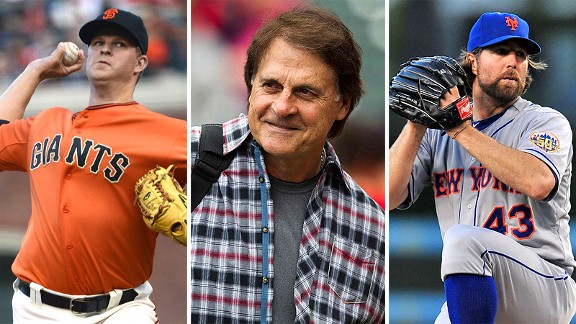 Associated Press/Getty Images
Tony La Russa picked Matt Cain over R.A. Dickey as the NL All-Star starting pitcher.
NL manager Tony La Russa said Matt Cain and R.A. Dickey were "equally legitimate" contenders to serve as the starting pitcher for the National League in the All-Star Game, but he selected Cain in part because he already is catcher Buster Posey's regular-season batterymate and therefore they have familiarity.
DICKEY vs. CAIN
A 2012 statistical comparison of R.A. Dickey and Matt Cain.
La Russa, who said he has watched Cain a lot while living in the Bay Area and semi-retired, nonetheless pledged Dickey would pitch in the first half of the game, although he could not specify whether that would be the second or fourth or some other inning.
"I know Dickey's going to pitch," La Russa said. "And I'm very aware of the first half that he's had. By the way, our club and our hitters [with the Cardinals] in particular the last couple of years have [been] up close and personal to see how tough he is.
"The one edge that I thought would make sense, we've got Buster catching, and Matt is equally legitimate as far as getting the honor. And then we're just going to play the game. I can't bet you that Dickey will come out second or fourth. I just know that he's going to pitch in the first half of the game."
Cain candidly noted that he thought it might actually have been beneficial for Dickey to start, since it would have afforded the knuckleballer more time pregame to work with Posey so they could get acclimated.
"I was actually thinking that it might be a little bit of help if R.A were able to start it, because maybe Buster would be able to catch him today and then catch him warming up or something like that -- maybe a little bit of help doing it that way," Cain said. "But I found out yesterday when I was getting over to the hotel, and was just extremely excited about the whole thing and just started to think about what their lineup was going to be."
La Russa also selected Colorado's Carlos Gonzalez over David Wright as the NL designated hitter.