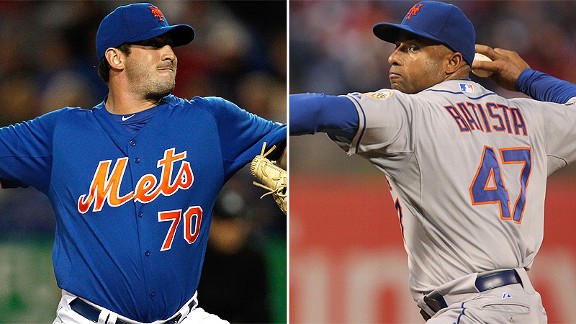 Getty Images
Matt Harvey can prove he is ready for the majors and earn next Saturday's start against the Dodgers instead of Miguel Batista if Harvey has a solid showing Monday with Triple-A Buffalo.
ATLANTA -- Matt Harvey will have a chance Monday to earn a spot in the major league rotation, when he pitches for Triple-A Buffalo.
Terry Collins said Chris Young should be fine for Wednesday's start in Washington, and that the choice for Saturday against the Dodgers is pretty much down to Harvey and Miguel Batista.
There will be a boatload of Mets executives on hand as Harvey pitches for the Bisons against Toledo, in a game that will be televised by SNY.
Toledo, which will help determine if Harvey is ready for the majors, is 37-55 and has a .246 team average, tied for second-worst in the International League.
"Well, we're going to have some people there watching it," Collins said.
The manager added that while it's not in the consideration set for Zack Wheeler to face Los Angeles next weekend, he very much should be on the radar next month for a promotion to the majors.
MATT HARVEY SHOW
A look at 2010 first-round pick Matt Harvey's past five starts for Triple-A Buffalo.
"He's not out of the mix," Collins said about Wheeler. "I'm going to tell you something: Right now, in our organization, if you've got talent, and you show that you can get people out, your name is going to be on that list."
Harvey is 2-2 with a 2.32 ERA in his past five starts. He has allowed 22 hits, walked nine and struck out 38 in 31 innings during that span.
The scouting report?
"More consistent with his fastball," Collins said about Harvey's recent outings. "[Buffalo manager] Wally [Backman] told me the other day, 'Look, he's got the good curveball.' One day he didn't use it until the fourth or fifth inning. He's got it. It's his best secondary pitch. The changeup was inconsistent, but still at times a good pitch for him.
"Monday night we might get the reports back, 'He's the guy. He's ready.'"
Collins pretty much echoed the critiques of scouts: Harvey's curveball is solid, but he sometimes does not use it enough. And the changeup is inconsistent. And because the changeup is inconsistent, Harvey sometimes refrains from using it, and instead tries to dominate with his fastball (which he tends to leave up in the zone at times). The organization preference is for Harvey not to worry about Triple-A success, take any lumps with the changeup if need be, and develop that pitch.
Former GM Jim Duquette similarly recalled catcher Alberto Castillo calling for changeups from Bill Pulsipher when they were in Double-A in 1994. And Pulsipher would stop throwing the changeup whenever he gave up a solid hit with the pitch, which meant he was a two-pitch pitcher when he arrived in the majors.
"When we talk about development of minor league players, we're trying to get them developed to be ready to play in the big leagues -- not to be successful in the International League," Collins said. "How are you going to be successful in the big leagues? I'm not sure I've seen too many pitchers at the major league level who use one pitch as a starting pitcher.
"You see it with Jon Niese, where he's working on his changeup. And he picks counts to throw it, because he knows he's got to use it. And that's what you've got to do. You've got to be in Triple-A saying, 'You know what? I might hang this. And it may get hammered. But I can't worry about it right now, because I'm going to need that when I get to the next step. I'm going to need to throw this in this count for me to be successful. So I've got to start using it right now.'
"That's how I think you develop players."