ATLANTA -- After reviewing the play himself, ejected Terry Collins said the reversed fifth-inning call that took away a catch from left fielder Jordany Valdespin was correct.
Collins added that it also was proper to allow Martin Prado to be positioned at second base afterward, since Prado had achieved that base and only scampered back toward first, where Ike Davis tagged him, when umpire Dale Scott initially -- and incorrectly -- signaled Valdespin had made the catch.
"It was the right call," Collins said.
Scott, also the crew chief, spoke with a pool reporter after the Braves' 8-7 win. He said: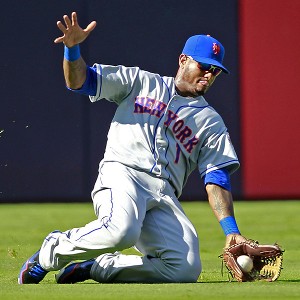 John Bazemore/Associated Press
Jordany Valdespin initially was awarded a catch on Jason Heyward's shot to left field. But after umpires conferred, it was ruled correctly as a single.
"His body was between me and him, so I never had any evidence that he didn't catch the ball. But I never had a good look at it. I called it a catch. Immediately, I saw my partners Bill Miller and Dan Iassogna coming at me, as we're instructed to do when we have something that's completely different from what happened. We got together as a crew. We definitely had the ball bouncing. That's no catch, and any time that we correct an error like that, we can put the runners wherever we think they should have gone. And that's exactly what we did.
"The runner from first [Prado] had gone to second base. If that call had been called correctly from the get-go, there's no way he's out. It wasn't like [Prado] was holding up or anything anyway. But the point is he gets second, the ... batter [Jason Heyward] gets first. Case closed. The play's over. Terry, of course, came out and argued, as he should. That's what he's supposed to do, and he was good about it. He understood. In fact, he said during the argument, 'I know you got the play right, I'm just frustrated.'"
Freddie Freeman followed with two outs with a tiebreaking two-run double that gave Atlanta a 5-3 lead.
Davis also said the umps ultimately called the play correctly. But he was upset that there was not a similar conference to reverse a call the previous half-inning when Valdespin was ruled out at first by ump C.B. Bucknor after bunting -- a decision that similarly was incorrect.
"If you miss a call at first, and he clearly beats it, and you can't reverse that when everyone sees he's safe, it's a weird scenario," Davis said. "I don't know how you reverse calls versus you don't reverse calls. That's the whole replay thing, which I don't want to get into."
As for the momentum changing with the call reversal against Valdespin, Davis said: "For sure, but he didn't catch it. And it is what it is, I guess. I hope he would have just caught it."
Said R.A. Dickey: "I'm looking at the umpire. And he went, 'Out.' And he was the one closest. If he sees out, and the other guy said he sees that it's not out, then I've got to defer to the guy who is closest. They may have gotten it right. And, if they did, great. But, in the moment, it certainly looked like an out, which is a big play."
What about Prado, who initially was tagged out while in limbo? Should he have remained ruled out, with Heyward given first base?
"I tried to make that argument very quickly," Dickey said. "But they were convinced that if it was the case [the ball bounced], then that guy, because he was already occupying second base, that's where he was going to stay."