ATLANTA -- R.A. Dickey has now allowed five runs apiece in three of his past four outings.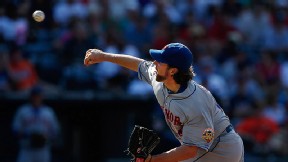 Kevin C. Cox/Getty Images
R.A. Dickey had his second-shortest outing of the season Saturday.
Yet, truth be told, in a three-run second against him Saturday, speed-challenged Freddie Freeman was credited with infield hit on a play second baseman Daniel Murphy had enough time to make. And Brian McCann dropped a ball into shallow right field that was not hard hit.
So what was Dickey's analysis of his performance Saturday, when he ultimately was charged with five runs in five innings in a no-decision?
"I just threw some poor knuckleballs up there," Dickey said after the Mets lost, 8-7. "Every season has a storm or two in it. I just have to kind of stay afloat and it'll turn. I also threw some good knuckleballs that bled in front of some outfielders, and an infield hit in an inning where they scored three runs. Without making excuses, you just have to hold onto the fact that you know it's going to turn. I feel pretty good. I don't feel like things are completely out of whack. But I've got to be better. When there's a big situation with two outs, I've got to make a better pitch than I did tonight. And it cost us."