ATLANTA -- By the time Dan Warthen came to the mound to chat with Johan Santana on Sunday afternoon at Turner Field, the pitching coach had resolved to get ejected.
In comments echoed by Josh Thole, Warthen said Santana indisputably should have had called third strikes on Paul Janish and Michael Bourn in what became a six-run fifth inning. So the pitching coach went to the mound to visit Santana intentionally trying to get ejected by plate umpire C.B. Bucknor.
"I intended to talk to the umpire. Yes," Warthen said after the Mets lost to the Braves, 6-1. "... I didn't intend to be in the game after that. When I left the dugout, I felt that I was leaving. It was time."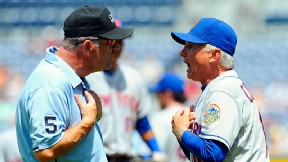 Dale Zanine/US Presswire
Terry Collins takes up the argument with crew chief Dale Scott after pitching coach Dan Warthen was ejected in the fifth inning.
Warthen did not mince words -- suggesting the strike zone was not equivalent for Santana and Braves starter Ben Sheets.
"I thought it was a much wider strike zone for Mr. Sheets," Warthen said. "I thought Santana made some good pitches both on Janish and on Bourn, didn't get the calls. They were strikes for the other team and they were not strikes for us. Those are huge pitches, and at that point in time it had been going on, it had been building a little bit. We had enough.
"[Bucknor] asked whether or not I was questioning balls and strikes. And I never really answered him. I had a little quip about that. I'd rather not say what that quip was. He took it as an affirmative and so he ejected me."
Said Thole about Warthen: "He came out pretty calm, but somebody had to go."
Terry Collins, who came onto the field after Warthen's ejection, took up a conversation with crew chief Dale Scott. Collins was not permitted to argue balls and strikes, and said Scott warned him: "You're on thin ice."
To which Collins responded: "I'm just telling you what the perception is."
Warthen said the calls changed what had been a scoreless game. Bourn's ensuing one-out RBI double plated Matt Diaz to open the scoring, while advancing Janish -- who ultimately had walked -- to third. At that point, Warthen visited the mound and was ejected. Martin Prado followed with a sacrifice fly, Jason Heyward had an RBI single and Freddie Freeman delivered a three-run homer later in the frame as Atlanta grabbed a 6-0 lead en route to the sweep.
"The inning's over. If Janish is out and Bourn is out, the inning is totally over," Warthen said. "And the pitches he threw to those guys, [Bucknor] called much worse pitches on our guys. To me, and even on the [computerized plotting of balls in strikes] coming in here after the game, they both had them as strikes.
"You're in a 0-0 baseball game and you're battling. And we've lost a couple of baseball games and they haven't been pretty. You're coming off the break. We're a little sluggish. We're a little flat. [Santana]'s trying to be the guy that changes the scene and wins a baseball game. And something like that happens, yeah, certainly it affects you."
Said Thole: "It changed the course of the game. ... We've got to lock it in. It goes both ways. The guy behind the plate has to do the same."
Santana too groused about the strike zone postgame, but far more diplomatically.
"We felt that we threw good pitches," Santana said. "We didn't get the call. It's tough when ... one pitch could be the difference in the game. I didn't question anything. I was doing my job. That's too bad that a couple of pitches changed the whole ballgame."
Starters Chris Young, R.A. Dickey and Santana ended up allowing 16 earned runs in 13 innings in the series, although Warthen excused that as post-All-Star break rust that many teams are experiencing.
"You look around the league," Warthen said. "After the All-Star break, you're seeing a whole bunch of six-, eight-, nine-, 10-run games. It's going to take probably a time around the rotation for almost everybody to get themselves back in form. And it probably affects pitchers more than it does hitters."