ATLANTA -- The reeling Mets, coming off getting swept in Atlanta, now head to Washington for a three-game series that opens Tuesday. And that is not necessarily the recipe for getting healthy. The Nats beat Miami on Sunday and now own a National League-best 51-35 record.
"They were told before this series started where we were," Terry Collins said after the Mets were swept out of Turner Field with a 6-1 loss Sunday. "Right now, they're a little down in the dumps at the moment. And you can't hardly blame then. We'll give them a day off tomorrow and then we've got to start grinding it out in Washington, because we can be in big, big trouble if we play like this there.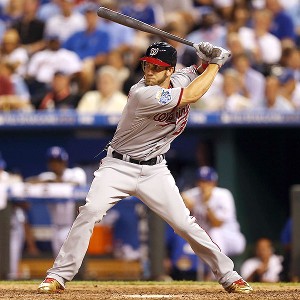 Jonathan Daniel/Getty Images
The Mets were swept in Atlanta, and Bryce Harper and the Nats await them Tuesday in D.C.
"Great pitching. Key hitting," Collins continued, referring to the Nats' strengths. "They're very athletic. They can all run. They've got some power. But their pitching is really deep."
The Mets answered a previous sweep at the hands of the Yankees by sweeping Tampa Bay, and against the Reds by sweeping Baltimore.
Collins acknowledged the Mets are at a critical juncture.
"We're not swinging the bats anywhere like we can -- or like we have. Not even close," Collins said. "So we've got to get that going again. We've got to put some points on the board. Our pitching has done a great job. We've gotten big hits, key hits. But we can't keep being four and five and six runs behind, trying to catch up. We don't have that kind of power. It takes a lot of hits to catch up when you're that far behind."
Said David Wright: "It seems like this has kind of been one of the faults for us so far this year is we've been so inconsistent. And, granted, we had an opportunity to win a couple of these games. Hopefully the trend holds true and we play good baseball our next series, because it seems like we have a series like this and then we find a way to get it turned around pretty quickly. Washington will be a challenge. It's not good coming out of the break.
"We're just not playing complete games, or one part of our game is working and another part maybe not so well. So it just seems like we haven't been able to put things together. I think some of it is that we have young players, and we're going to ride that roller coaster a little bit. But we need to do a better job, even when we're not playing our best baseball like in this series, to squeak out a win.
"I just think we've got to play more complete games."